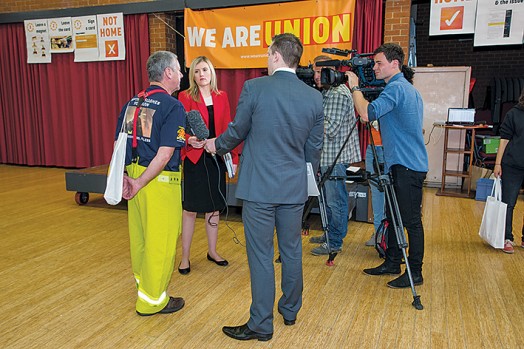 UNIONS will urge Frankston and Carrum voters to "put Napthine last" at next month's state election as part of a campaign to "knock off" the Coalition state government.
Union members will be stationed at polling booths in the two marginal electorates on 29 November alongside political party volunteers who traditionally hand out 'how to vote' leaflets.
Trades Hall Council secretary Luke Hilakari said nurses, paramedics, teachers and firefighters would ask voters to vote put the Napthine government last on their ballot papers as some voters made a final decision on how to vote.
He said union members would not be encouraging voters to opt for Labor as part of the campaign despite campaigning against the Coalition government.
"People can make their own minds up," Mr Hilakari said.
"We won't be handing out 'how to vote' cards but we will be encouraging people to vote against a government that has dudded public sector workers on pay and conditions."
The state government and unions have been unable to resolve a long-running dispute over pay rises and staffing levels for paramedics and firefighters ahead of the election.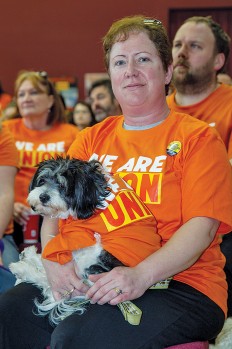 About 200 union members including nurses, paramedics, teachers and firefighters took to Frankston and Carrum streets last weekend to visit homes in Frankston and Carrum as part of a "doorknocking blitz… to knock off the government", according to the Trades Hall's 'We Are Union' website.
Frankston and Carrum are two of six marginal seats being targeted by Trades Hall in the final weeks before the state election.
The bayside seats of Mordialloc and Bentleigh will also be targeted by Trades Hall with Bellarine and Monbulk also on the hit list.
Mr Hilakari said the Victorian Electoral Commission "is fine" with union members attending polling booths.
"It's the first time we've done this since the 'Your Rights At Work' campaign seven years ago," he said.
That union-led campaign against WorkChoices was regarded as influential in defeating the Howard government at the 2007 federal election and helping former Labor prime minister Kevin Rudd into power.
Former Liberal, now independent, Frankston MP Geoff Shaw said he had met paramedics earlier this month to discuss their concerns.
"Having respect for paramedics in our state doesn't need to only be demonstrated through higher pay or benefits," Mr Shaw said.
"Whilst higher pay and benefits are ideal, we can also be taking steps to reduce the stress and high workload of our emergency health staff through improving the system within which they work."
First published in the Frankston Times