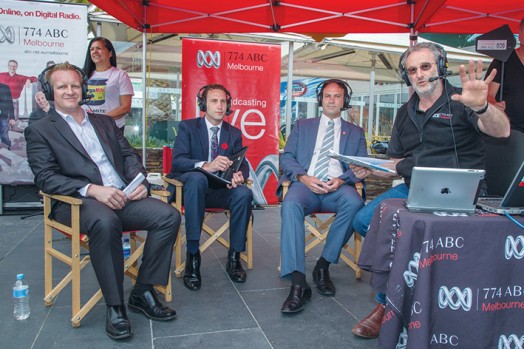 FRANKSTON became the focal point of state politics last Thursday morning when ABC radio presenter Jon Faine broadcast his Mornings show live from the Farmers Market in Wells St.
Faine was in Frankston to interview the major parties' candidates about their vision for the city's future as the marginal seat shapes up as a major battleground between the Liberal Party and Labor in the lead up to this month's state election.
Frankston is regarded as a bellwether seat since the party which has won the seat at state elections since its formation in 1967 has won government.
Unsurprisingly, as has been so often the case during the Coalition's past four years in government, it was incumbent independent Frankston MP Geoff Shaw who threatened to steal the show, when he turned up midway through his rival candidates' debate to speak to Faine despite having failed to respond to several attempts by ABC producers to confirm his appearance on the show beforehand.
Labor candidate for Frankston Paul Edbrooke and Liberal hopeful Sean Armistead faced a very public interrogation by the high-profile Melbourne ABC radio host in front of a street audience of Frankston residents, councillors, minor party candidates and political staffers.
Before Mr Shaw's arrival, Mr Edbrooke and Mr Armistead had been trading barbs over their respective parties' achievements, or otherwise, for Frankston while they have been in government with the refurbishment of Frankston train station and a cluster of pharmacies attracting drug dealers and addicts to the area a major concern.
Mr Armistead took exception to Faine's description of the train station as "a junkie hot spot" due to the proliferation of six Frankston pharmacies near the station which dispense opioid replacement therapies such as methadone to drug addicts.
The Liberal candidate said Faine should show more "respect" for people who struggle with drug addiction since they need help instead of being demonised.
The exchange seemed to galvanise Faine who later accused Labor's Mr Edbrooke of playing "bullshit bingo" when answering questions about cleaning up Kananook Creek. Mr Edbrooke said he "would consult with stakeholders in regards to Kananook Creek".
Mr Shaw quickly set about his rivals upon his arrival in "an empty chair" Faine had set aside in the off-chance the MP would turn up, and claimed he was the only candidate who would provide a "strong voice" for Frankston since he refused to "toe the party line".
Labor's Mr Edbrooke, a firefighter based at the Frankston CFA fire station, said he has approached Mr Shaw about firefighters' pay and conditions before Mr Edbrooke became Labor's state election candidate and claimed Mr Shaw "shrugged his shoulders" when asked what he would do to help convince the Napthine government to settle the wages dispute.
Faine noted the former Liberal MP's arrival at the debate seemed to have "sucked the oxygen" out of Mr Armistead who had "shrunk" into his chair.
Although unlikely to win the seat in his own right on 29 November, Mr Shaw's preferences could determine whether the Liberals or Labor claim victory in Frankston.
Mr Shaw declined to reveal who he would preference, when questioned by Faine. He said running on "an open ticket" with no preferences is still an option.
Mr Armistead said any preferences flow between Mr Shaw and himself was a matter for Liberal Party state director Damien Mantach and Premier Denis Napthine to negotiate.
Labor's Mr Edbrooke said he would like to be involved in any discussion with Mr Shaw regarding preferences.
Premier Napthine and Labor opposition leader Daniel Andrews have both previously said they would not consider making deals with Mr Shaw.
First published in the Frankston Times
An earlier version of this article incorrectly stated Jon Faine accused Liberal candidate Sean Armistead of playing "bullshit bingo". The accusation was directed at Labor candidate Paul Edbrooke. The Times regrets the error and is happy to correct the record.