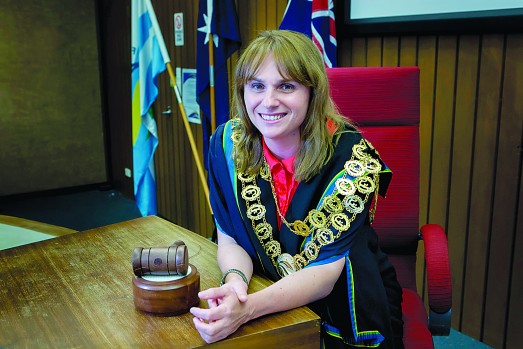 FRANKSTON has a new mayor. Councillors voted last Wednesday evening to elect Cr Sandra Mayer to succeed outgoing mayor Darrel Taylor but Cr Mayer's elevation to the mayoralty was not without controversy.
Councillors traditionally meet behind closed doors before a mayor is elected to thrash out any differences of opinion away from the public eye to give an outward appearance of unity to allow the new mayor to establish their authority at the start of the statutory 12-month tenure as chair of council meetings and Frankston's civic leader.
However, a facilitator was hired by Frankston Council to try to resolve a bitter divide between councillors backing Cr Rebekah Spelman and those supporting Cr Mayer.
The facilitator, former Kingston mayor Topsy Petchey, failed to resolve the conflict between the factions so Cr Mayer's election was marked by four councillors, including challenger Cr Rebekah Spelman, voting against her bid for the mayorship.
Crs Glenn Aitken, Brian Cunial, James Dooley and Colin Hampton voted for Cr Mayer to be mayor while crs Michael O'Reilly, Suzette Tayler and Darrel Taylor publicly backed Cr Spelman, Frankston's deputy mayor for the past 12 months.
It is the second time Cr Mayer has been mayor, having been elected unanimously in 2013 to the role before Cr Taylor's 12-month stint. The public five-four split among councillors this time around may signal a turbulent year ahead for Frankston Council.
At Wednesday's council meeting, Cr Mayer said she had been "a late entry into the race… and this is how it's ended up."
"I don't expect everybody to be happy with the decision but I do hope they will respect what the majority has decided," she said.
"I really do hope we will all make an effort to work together over the coming year."
Cr Spelman told The Times she "personally felt capable about my ability to do the job".
"It's a shame we have a recycled mayor when there is a new candidate willing to step up," she said.
Cr Spelman said the opposing five councillors, including the new mayor, had insisted a facilitator be brought in to speak to councillors. She believed it had been a waste of time and money since the outcome had been "predetermined" by the five.
A "lack of transparency" had led to some councillors publicly voting against the incoming mayor's appointment, according to Cr Spelman.
The mayor's remuneration is about $90,000 per 12-month term.
Council CEO Dennis Hovenden advised The Times the cost to hire a facilitator is expected to be about $1400 but an invoice had not yet been received.
Cr Mayer likened council to "a second family" and said councillors occasionally "argue" like many families.
"Second chances are a wonderful thing," she said.
"I guess I must have done something right last time and I intend to do even better this time."
Cr Aitken was unanimously elected as deputy mayor at last Wednesday's meeting.