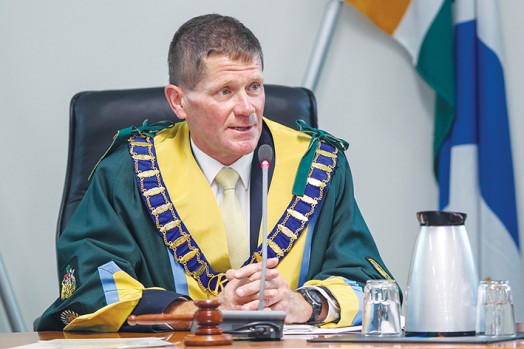 KINGSTON has a new mayor. Cr Geoff Gledhill was elected unanimously by his fellow councillors at a council meeting last Wednesday evening.
Cr Gledhill's predecessor, Cr Paul Peulich, handed the mayoral robes and chains over to Cr Gledhill after completing his 12-month stint as the municipality's civic leader.
"I consider it a great privilege to serve as mayor of Kingston and I'm proud to lead such a vibrant community as we work together to help create an even better, stronger City of Kingston," Cr Gledhill said.
"I'll be looking to make inroads on major issues including residential aged care and the transition of tip sites in the Green Wedge into public open space."
Cr Gledhill lives in Kingston with his wife and three children. He is a volunteer lifesaver and operates a retail consultancy service.
He takes over the mayorship at a time when councillors continue divided on planning issues, especially with regards to Kingston's Green Wedge.
On Wednesday evening, Cr Steve Staikos described council chambers as "a horrible place" in recent months since due to frequent clashes between councillors.
"Sometimes we feel like gladiators rather than councillors," Cr Staikos said.
"We're at each other's throats a little too often."
Cr John Ronke said the past two years in council had been "very demanding".
"It's no secret that tempers have been frayed and we've had more than our fair share of disagreements," Cr Ronke said.
He said the mayor always had a difficult task "managing eight other councillors who, by definition, are here because they're strong willed and believe they represent their communities… not to mention that some people have big egos to keep in check."
Cr Gledhill was elected to council at the 2010 council election to represent Central Ward and will be mayor for the first time.
Cr Gledhill was formerly the chairman of Business First, an organisation that has previously raised funds for Liberal Party candidates in the bayside area.
He will chair council meetings as part of his mayoral duties and his vote could prove decisive on contentious issues which divide councillors.
The new mayor said he hoped councillors could work together in the year ahead.
"I want a council where everyone can contribute," Cr Gledhill said.
"I want to engage ward councillors in ward issues and they will be welcome to come along to attend events in their wards with me."
Cr Gledhill said working to transfer aged care services from council with a minimum of disruption to care home residents was high on council's list of priorities for the coming months.
Working with industry "in the northern part of the green wedge" to "rehabilitate" land for open space is also high on the agenda, although he said this would take "years".
He also hoped council could establish new community feedback forums quickly after the village committees system was disbanded by council earlier this year.