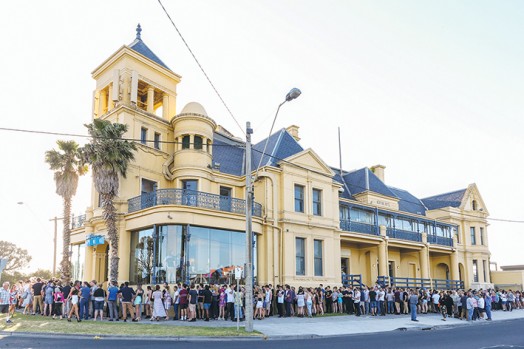 THE iconic Mentone Hotel closed its doors on Sunday amid uncertainty over its future.
Independent candidate for Sandringham Clarke Martin is spearheading a campaign to try to save the pub and live music venue, known locally as The Edgy, from future development into apartments.
Mr Martin said the venue may reopen but said the new owner had yet to reveal their plans for the site.
"There's been no formal planning application yet," he said.
Hundreds of people attended a rally last Wednesday evening outside The Edgy as regular young Edgy Wednesdays punters queued to enter the pub for possibly the final time.
After last week's frenzy of activity on social media sites, Mr Martin admitted calls to "save the Edgy" had gone "quiet" this week.
However, the independent candidate said he is determined to press the case for the preservation of the Mentone Hotel with whichever political party – Liberal or Labor – wins government on 29 November.
Both parties claim they recognise the heritage importance of the Mentone Hotel and support moves to have Heritage Victoria consider a heritage listing for the hotel ('Pub loss makes regulars edgy', The News 12/11/14).
Mr Clarke wants the state government to introduce "new laws" to protect The Edgy and reckons current planning laws merely protect the venue's facade from excessive change.
"There needs to be new laws introduced to draw a line in the sand," he said. "We are losing far too many historical buildings to people who do not even live in the area."
A petition launched by Mr Martin at www.change.org has already gathered more than 6000 signatures.
"We're waiting to see what happens since we're in [government] caretaker mode… but we will be speaking to whoever forms government about protecting The Edgy," he said.