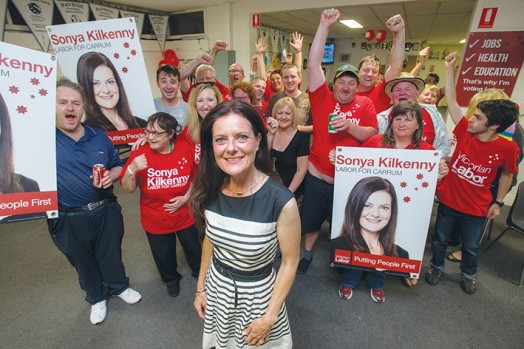 LABOR has won government after voters turfed out the Napthine Coalition government at Saturday's state election. A swing of about 2.5 per cent across Victoria was more than enough to ensure Labor leader Daniel Andrews will be the state's next premier.
Dr Denis Napthine, who succeeded Ted Baillieu as premier in 2013 without facing the state's voters, expressed "thanks to all Victorians for the great honour and privilege of being the 47th Premier" via a message on social media site Twitter on Sunday.
Many political analysts put the Coalition government's defeat down to "inaction" during Baillieu's time as premier after he won government in 2010 but that would provide little comfort to Dr Napthine who became head of the first state government in Victoria's history to be ousted by voters after just one term.
Labor's victory is a remarkable turnaround for the party and few tipped former Bracks and Brumby governments' minister Daniel Andrews to lead Labor back to power so quickly after the party's 2010 loss after 11 years in government.
While Labor was swept to power at a state level on Saturday, the outcome remained less clear cut in Carrum and Frankston early this week although the Mordialloc contest looks done and dusted.
Labor candidate for Mordialloc Tim Richardson defeated Liberal MP Lorraine Wreford with an approximate 4.5 per cent swing to Labor with most votes counted by the Victorian Electoral Commission.
Labor candidate Sonya Kilkenny looks likely to succeed Liberal MP Donna Bauer as Carrum's member of parliament in a tight contest with a recount by the VEC underway as The News went to print.
However, the Frankston result remains poised on a knife edge.
Political experts such as the ABC numbers cruncher Antony Green called the seat of Frankston a Labor gain for candidate Paul Edbrooke on Saturday evening only to see the contest tighten to give Liberal candidate Sean Armistead a chance of victory.
Candidates remained tight-lipped as the final votes and recounts were being tallied in Carrum and Frankston although Labor insiders were still confident of victory in Carrum and believed Frankston would also ultimately fall their way.
The 'sandbelt' Frankston line seats of Frankston, Carrum, Mordialloc and Bentleigh did not determine on their own which party formed government this time around.
The Coalition won government on the back of those seats being won by Liberal candidates in 2010.
However, voters will watch intently to ensure the incoming Labor state government keeps its pre-election pledges for the electorates.
In Bentleigh, Nick Staikos is likely to claim victory for Labor at the expense of Liberal MP Elizabeth Miller.
Labor's statewide election win puts the East West Link road project in doubt with premier-elect Daniel Andrews signalling his intention to stop the $500 million construction from going ahead.
Labor said the infrastructure funds would be better spent elsewhere on public transport upgrades including Frankston line improvements.
The outgoing Coalition government said Labor put Victoria's business reputation at risk by "ripping up" contracts.
The East West Link project contract was signed just weeks before the election despite Labor's public opposition to the plan.
First published in the Chelsea Mordialloc Mentone News