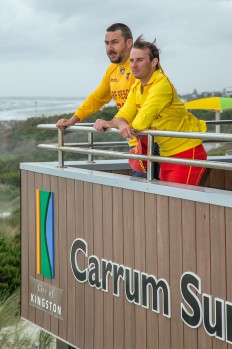 WARM weather last weekend had beachgoers flocking to the sea and sand, with lifesavers from Mentone to Carrum reporting business as usual.
Theirs were among the 56 patrolled beaches – and 30,685 volunteer members across the state – back at work for the 2014-15 summer season.
"We ask all beachgoers to take care of themselves and assist our lifesavers by swimming at the patrolled beaches, between the red and yellow flags. If our lifesavers can't see you, they can't save you," LSV manager lifesaving operations Greg Scott said. "While we encourage people to get outdoors and enjoy our coast, it's so important that people realise just how dangerous beaches can be – even on those days of 'perfect' beach weather," he said.
"Rip currents will occur at all beaches, even in bays. They are extremely dangerous and difficult to spot."
He said beachgoers should check the weather conditions, including tides and swells for the beach they are visiting. They should look out for any forecasted changes as they can come across quickly. They should read safety signs the beach and ensure they understand the local hazards and dangers, and assess the conditions and their abilities and whether activities are appropriate for the conditions.
Mr Scott said all reported coastal drowning deaths in 2013-14 occurred at beaches that were not patrolled by lifesavers at the time.
Carrum Surf Life Saving Club secretary Ben Rooks said new members are always welcome and the club is currently recruiting new volunteer surf lifesavers. Anyone can be a lifesaver and their team will provide all training. Programs can be amended to suit differing skills and ability levels.
Bronze Medallion training will be held at the Carrum SLSC on Monday evenings from 6.30pm, from 5 January next year. Training covers surf awareness, survival, patrol and rescue procedures, emergency care plus anatomy and physiology and is for anyone aged over 15. Other programs are available for people under this age.
For more information email info@carrumslsc.com or visit facebook.com/CarrumSLSC
Port Phillip Bay lifesavers have already been busy patrolling since 15 November.
Last season lifesavers and lifeguards performed 513 rescues across the state and attended to 1548 first aid cases.