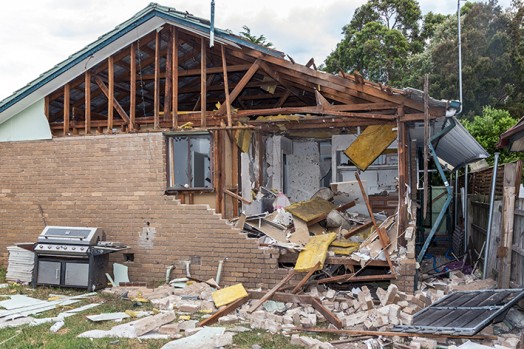 IT wasn't a bomb, but it was just as destructive. A Frankston house was partly demolished last Wednesday afternoon when its hot water service exploded.
The force of the blast in Drum Close destroyed much of the rear of the house and part of the roof. It is believed no one was home at the time.
Witnesses said the hot water tank "took off like a rocket" and ended up on a nature strip in Dalpura Circuit.
"When it exploded there was a loud bang and it shook houses for quite a distance around," said a neighbour, who asked not to be named.
"We ran outside and someone saw the water tank a few hundred yards up in the sky, and then debris rained down on nearby houses.
"One resident raced to protect his children, who were in a swimming pool as rubble rained down. The water tank and pieces of roof tiles ended up in Dalpura Circuit. The house next door had its fence, belongings and car damaged."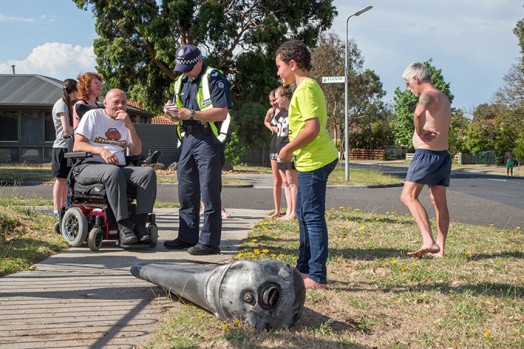 Detective Acting Sergeant Mark Garett, of Frankston Crime Investigation Unit, said the house's occupant had been interviewed and "investigations are ongoing".
Two Frankston CFA trucks and five crew members attended the scene just before 5pm. Senior station officer Graham Kirk said he was unsure what had caused the explosion but it appeared the pressure release valve had been blocked.
"It might not have been done maliciously," he said. "It might have been done to fix a leak."
Mr Kirk said his members monitored air samples for flammable gas and used a thermal imaging camera inside and outside the house to determine the cause of the explosion. None was found.
After the big bang, a plumber, who lives nearby, turned off the gas and water to make the scene safe. He said it appeared the hot water service had been tampered with and the pressure valve capped.
Police gas investigators attended the scene later in the day.