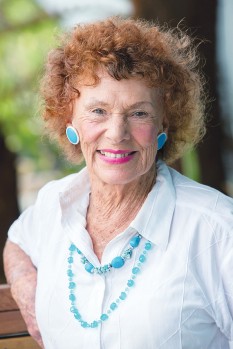 THIS year's Frankston Citizen of the Year is an expert on the city's history.
Glenda Viner is one of three award winners honoured at an Australia Day citizenship ceremony at Frankston Arts Centre.
The others are Senior Citizen of the Year Marion Beattie and Young Citizen of the Year Hayley Russell.
All received commemorative certificates and pins and have been asked to be involved in a range of city projects and events throughout the year.
Also at the Australia Day citizenship ceremony, 90 people from 24 countries have been awarded Australian citizenship.
Ms Viner, 71, of Frankston, joined Frankston Historical Society 28 years ago and has been its president for the past 15 years.
She helped to establish Ballam Park Homestead as the home of the local public records office depository, which holds the historical records of Frankston in its archives.
She has spent 16 years studying Frankston's history, significance and evolution and is an eloquent communicator, writing about pioneers and arranging talks.
Ms Viner's interest in Frankston began nearly 55 years ago when she and her family arrived from Derbyshire, England.
She has been an integral member of the community, helping many organisations, including Frankston Hospital, Brotherhood of St Laurence, Ballam Park Homestead and the Seniors Police Registry.
Her various contributions are always valuable: from collecting toys for underprivileged children, creating displays for Christmas parades and managing the catering at Ballam Park Homestead's events.
The mother of three and proud grandparent is a significant member of Frankston's community.
Marion Beattie, 84, of Frankston North, is known for "always putting a smile on everybody's face", her friends say.
She has a "gift" with the pen and enjoys writing letters by hand which, she says, is the best way of communicating because "it is hard to resist writing back to someone who takes the time to craft a letter by hand".
Those who have responded to Ms Beattie's letters include Prince Harry, MP Clive Palmer and even the late Nelson Mandela.
Ms Beattie's gift with words has also translated to the page. She wrote Wild Dust and Green Fields, the story of her cowboy relative, 'Bronco' George.
A natural entertainer, Mrs Beattie spent 30 years travelling around Victoria, entertaining at senior citizens' homes.
Four years ago she dedicated herself to caring for her son, who had Parkinson's disease. He passed away last year. During his illness, Ms Beattie put her writing skills to work, appealing to the federal health minister to reconsider legalising medicinal marijuana and euthanasia.
Ms Beattie is passionate about tackling homelessness, and is donating money from book sales to the cause.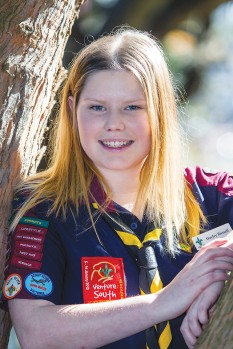 Young citizen winner Hayley Russell, 18, of Seaford, was nominated by 1st Seaford Scout Group leader Anne-Marie Threlfall.
Described as a natural leader and mentor, Ms Russell has been a valued member of the 1st Seaford Scout Group since she was 11 years old.
Last year she helped transform a dormant Venturer unit into one of the fastest growing in the area. Her efforts earned her a Queen's Scout award – the highest award for Venturers.
Ms Russell also obtained a position on the Victorian Branch Youth Council "to ensure scouting remains relevant for generations to come".
She has proven herself to not only be capable of planning, organising and fostering new skills, but as a valuable member of the community who contributes in a positive and inspirational way.
The inaugural Community Event of the Year winner is Lyrebird Community Christmas Festival and Carols, now in its ninth year. The growing event last year attracted 4500 people. "The community thrives off this event and it is a credit to the Lyrebird Community Centre," organisers say.
Families attending can meet Santa, sing carols and watch a fireworks display. The is supported by local businesses and community members.
Framed letters under seal have been presented to Jasmine Martin and Mikala Sykes.
Jasmine, 17, has been nominated by her mum, Suzanne, of whom she is sole carer. Her role includes administering medical procedures.
If Jasmine had not left school, her mother would have gone to a nursing home. Leaving at an early age has meant Jasmine has sacrificed many social activities, friendships with peers and school events. She is currently studying her Diploma of Children's Education and Care.
Mikala, 17, has demonstrated strong leadership skills and a dedication to the community. This year she coached Seaford Junior Football Club's under-9s.
Previously, she volunteered as a trainer for Tyabb Junior Football Club. She also spent time doing a sports education program, helping young children at schools and volunteering at Auskick.