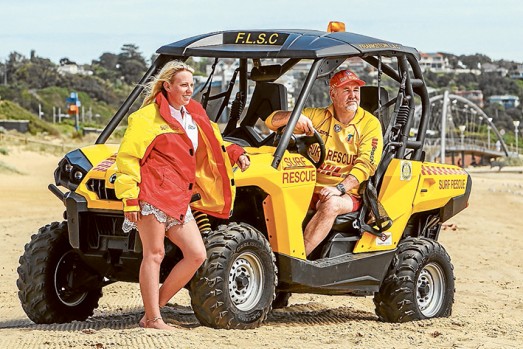 FRANKSTON Life Saving Club president Tim Cutrona says he will write to the council to "get the ball rolling" on paying lifesavers to man the popular beach on weekdays.
Club members fear lives could be lost when they are not on duty – and that paid patrols Monday to Friday, November to Easter, would ensure safety for beach users at all times.
Beaches all over Australia – mainly at tourist hot-spots – are already manned by professional life guards on weekdays.
Lifesavers at Frankston patrol only on weekends and rescued 19 swimmers in trouble on Saturday 3 January. It's a record they hope will not be broken.
But Mr Cutrona says the same situation could easily arise midweek – with fatalities a distinct possibility.
"Drownings can occur anytime – and not only on weekends when our members patrol at present," he said. "If it had been a Tuesday I hate to think what could have happened."
He said only a minimal presence midweek was required. "Two people with a jet-ski and a board is all that's needed. It would only cost around $22,000 a year each and that's not a lot to keep the beach safe."
But a row over who should pay the lifesavers – either the state government or the council – has created an impasse. Mr Cutrona said the costs should be shared between the council and the state government.
Frankston CEO Dennis Hovenden said "the responsibility sits with the state government".
"We are happy to speak to the relevant state government minister about any issues that impact on the safety of our community."
It is understood Parks Victoria has jurisdiction up to the high water mark while the council has authority over the beach and land surrounding the clubhouse.
This creates a conundrum as lifesavers treat as many beachgoers for cuts and heat exhaustion on land as they do swimmers in trouble in the water.
"The council promotes Frankston as a beach city so we can't see why they don't help pay for beach safety," Mr Cutrona said.
"No one will want to do anything until there is a fatality – and then they will all get involved."
He said the club had had had no formal response from the council.
Mr Cutrona queried why previous risk assessments of the beach by Frankston Council had not included lifesavers in the study.
"Life Saving Victoria should have conducted the assessments," he said. "I don't know how they were conducted without us."
He said the 300-member club had identified that members of the public were at risk on days when lifesavers were not patrolling. "We don't care whose responsibility it is to provide the funding or the risk assessment," he said. "We just want to do our job."
First published in the Frankston Times