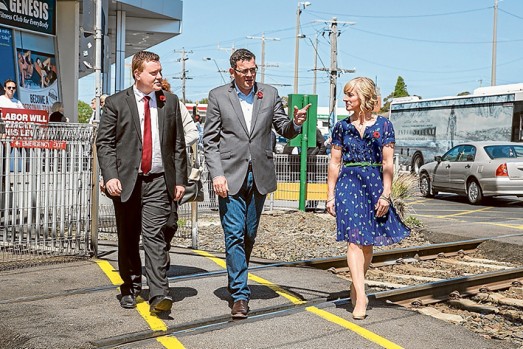 LABOR plans to fast track its plan to remove 50 of Melbourne's most dangerous level crossings but there is no indication yet on when Kingston road crossings will be separated from railway lines.
Premier Daniel Andrews announced on Monday at the level crossing at Centre Rd, Bentleigh that "work has started on 50 level crossing removals".
Mr Andrews called level crossings "our number one traffic nightmare".
"They hold up cars, they slow down trains, they take young lives, they've got to go," he said.
The Premier revealed $100 million will be earmarked to establish "a dedicated" Level Crossings Removal Authority to oversee the mammoth project.
Mr Andrews said $3 million will be released immediately so work can begin.
When in opposition, Labor promised before last November's election to remove 50 level crossings as part of Project 10,000 – a public transport plan which promises to create 10,000 jobs while upgrading suburban road and rail networks.
Eight Frankston line crossings to be removed, so road vehicles and trains no longer cross paths, include Mentone's Balcombe Rd, Bonbeach's Station St and Seaford's Eel Race Rd and Seaford Rd crossings.
Labor plans to have 20 of the 50 level crossings removed within the next four years before facing voters again.
Ormond's North Rd crossing and crossings at St Albans, Blackburn, Glen Iris and St Albans will be the first four removed but there was no confirmation on Monday of when Kingston residents can expect level crossings to be removed.
The RACV welcomed the state government announcement to fast track the level crossing removal program.
"Our members have consistently identified level crossings as the worst traffic congestion locations," RACV public policy general manager Brian Negus said.
"RACV has identified 30 top crossings from our survey and our analysis of delays and crashes at crossings around Melbourne."
In December last year, the RACV listed 11 of the "most dangerous" crossings requiring urgent action within two years.
None of the Frankston line crossings were included in the RACV list.
Mordialloc Labor MP Tim Richardson said Labor MPs along the Frankston line would push for the Level Crossings Removal Authority to prioritise Frankston line level crossings removals.
"The Balcombe Rd crossing in Mentone is just one that certainly needs to be removed as soon as possible," he said.
Kingston Council has been calling for the Balcombe Rd crossing to be abolished for at least four years.