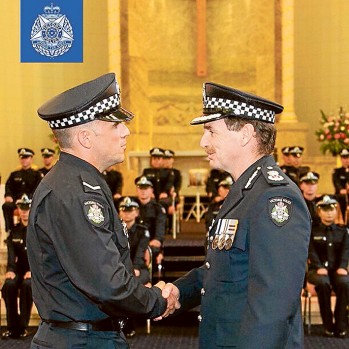 A FRANKSTON police officer has been honoured for saving the lives of three people – one a troubled 17-year-old girl – about 250 metres offshore from the lifesaving club last February.
First Constable Cameron Wallace, 35, of Hastings, received the Police Medal of Courage last week from Acting Chief Commissioner Tim Cartwright at a ceremony at the police academy.
Before the rescue, police had been called to the foreshore by reports of a swimmer in trouble about 10.40pm. Constable Wallace rushed to the scene and jumped into the water and swam to assist the girl – and then discovered two other men had gone out to help but had also got into difficulties.
Constable Wallace reached the girl – and the tiring men – and got them all to link arms and swim back to shore together. When they were about 50 metres offshore, he noticed the girl had lost consciousness and was not breathing. He began CPR in the water and directed the two men to continue swimming to shore.
The girl began breathing and he managed to drag her to safety. She stopped breathing again and he continued CPR until paramedics arrived. They got her breathing again and she was taken to Frankston Hospital for treatment and assessment.
Inspector Bruce Wemyss – who was in charge of Frankston police at that time – praised the actions of Constable Wallace and the two witnesses. "This situation could have ended tragically if not for the initial actions of the two male witnesses."
"I also commend the efforts of the responding police officer who, knowing time was of the essence, entered the water immediately with risk to his own safety in order to protect a life."
Constable Wallace last week said the rescue was made harder because the girl did not try to help herself.
"She was troubled and saw drowning as her only option," he said. "People in her position should know that they are not alone – that someone cares for them."
Two weeks later the girl posted her thanks on social media.
Wife Kirsten is proud of her man. "This is just recognition of what he did," she said. "It's good to hear something good about police because of all the ragging they get."
After accepting his award, Constable Wallace praised the high quality of local police work. "There are many amazing police at Frankston and this award honours them, too."