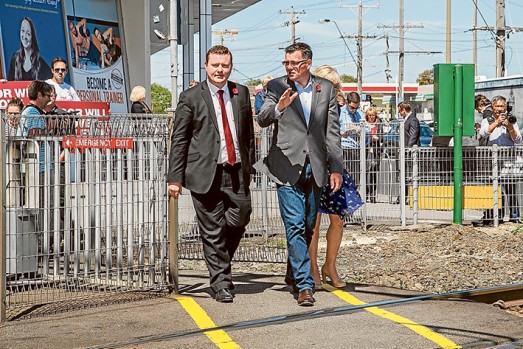 THE first hints about where level crossings may be removed first along the Frankston line have emerged.
Traffic measurement devices were installed around Bentleigh and McKinnon train stations last week.
The state government has pledged to separate 50 road level crossings from rail tracks across Victoria with 20 to be separated within four years.
Eleven Frankston line level crossings have been earmarked for removal. Before November's state election Premier Daniel Andrews called level crossings Victoria's "number one traffic nightmare".
"They hold up cars, they slow down trains, they take young lives, they've got to go," the then opposition leader said.
Last month the Labor state government announced the formation of a Level Crossings Removal Authority to oversee the vast project to remove the 50 level crossings.
While there has been no official confirmation of where the level crossings will be removed quickly along the Frankston line, the installation of the traffic measurement devices at Bentleigh and McKinnon would suggest those two stations may be high on the priority list.
First term Labor MPs Paul Edbrooke (Frankston), Sonya Kilkenny (Carrum) and Tim Richardson (Mordialloc) will hope level crossings in their electorates will face the axe sooner rather than later before they face voters at the next state election.
A Labor insider has told The Times the level crossing at Balcombe Rd, Mentone in the Mordialloc electorate is almost certain to be removed within four years.
Public transport is seen as a highly visible votes winner or loser along the Frankston line 'bellwether' seats which effectively hold the Spring St balance of power.
VicRoads metropolitan projects project director Brendan Pauwels confirmed the Bentleigh and McKinnon station devices are part of the project to remove 50 level crossings.
"VicRoads has started investigations at various level crossings to better understand traffic, congestion and community use," he said.
"As part of this work, we will be undertaking survey counts at a number of level crossings set for removal across Melbourne, including at Centre Rd, Bentleigh and McKinnon Rd, McKinnon."
An Andrews government spokesman said no Frankston line level crossings had yet been chosen for urgent removal since the government is "still in a pretty early stage of planning".