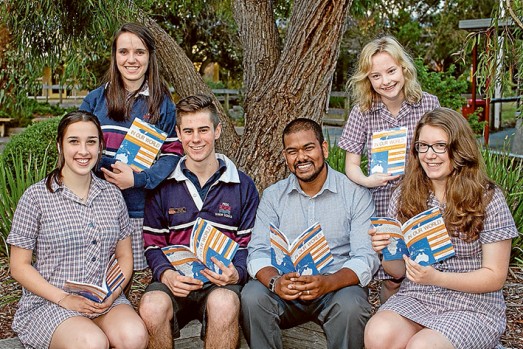 SCHOOL teacher Rashad Seedeen has come up with a novel approach to encourage students to think about life beyond the school gates and beyond.
The Patterson River Secondary College History and English teacher has compiled several essays written by senior students about major global issues into a book called In Our World.
The Canadian born teacher, currently studying for a PhD in international relations at La Trobe University, wrote a similar book last year and decided to involve Year 11 and 12 students in a second book. It took students about six months to finish the essays.
"I realised there's a lot of issues going on in the world that a lot of people don't understand because it's hard to get a full understanding just from watching 5-minute TV news stories," Mr Seedeen said.
In Our World's eight chapters – six by students and two by Mr Seeden – analyse hot contemporary subjects such as violence against women, celebrity culture and privacy, the Ebola crisis and the threat of terrorist group ISIS.
Mr Seedeen said students picked the topics to write about and learned a lot more about the subjects chosen. He provided information from "existing databases" for research purposes.
"A number of them [the students] were quite disturbed about the statistics on violence towards women," Mr Seeden said.
Bullying and harassment of women writers and bloggers online is also rife.
The Ebola epidemic was a fascinating case study for students to analyse how Western media reported the African crisis, according to Mr Seedeen.
A student found it interesting there is so much "overblown reaction in the West" about Ebola when "it's really an African problem".
"It [Ebola] is actually quite easy to deal with in the West … compared to Africa due to quicker access to better medical facilities, Mr Seeden said.
Despite this fact, western media has focused mainly on the few Ebola cases, mostly involving aid workers returning from African nations, as a threat to first world countries.
Perhaps the most controversial subject tackled in In Our World's 84 pages is "the threat of ISIS".
Mr Seeden's essay notes ISIS, unlike the likes of Al Qaeda, seeks to occupy territory.
"ISIS is trying to become a state and dominate land," he said.
"The way the military is being engaged is perpetuating ongoing war so that sort of militaristic engagement is a real problem.
"If ISIS was to be completely destroyed, there would most likely be a new terrorist organization that would rise up from the ashes of that … there needs to be more than a military response, it has to be diplomatic as well."
The teacher condemned ISIS but said "we need to look at why people are being recruited" to truly fight its rise.
Mr Seedeen, a teacher for a decade at Patterson River Secondary, plans to compile future In Our World volumes.
The first book was funded by an online Pozible crowdfunding campaign and donors will be listed in all future editions of the In Our World series.
The latest edition is available to buy as an ebook for $20 via Amazon and The Book Depository.
Mr Seeden would like to publish the print edition more widely but it is financially tough to do so.
"Book publishers and stores are a bit apprehensive about taking on a book that's about current affairs because it has a short shelf life."