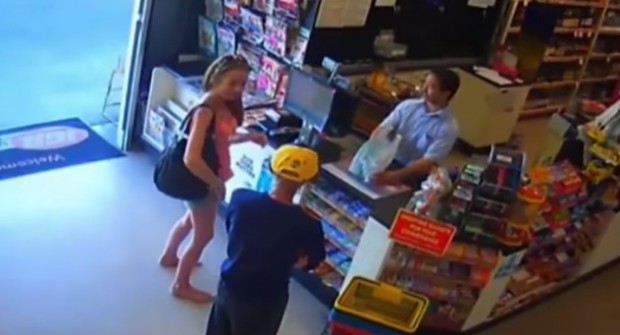 HOMICIDE Squad detectives hope the release of CCTV footage will assist the investigation into the death of Frankston North mother Traci O'Sullivan.
Ms O'Sullivan was found deceased by her ex-partner and their five-year-old son at her home in Timbertop Court, Frankston North around noon on Saturday 7 February.
She had suffered a severe physical attack resulting in multiple injuries sometime in the two days before her body was discovered.
Ms O'Sullivan was last seen by her family at her mother's house on the afternoon of Thursday 5 February. Police have found CCTV footage of Ms O'Sullivan – taken after she left her mother's house – when she shopped at a local IGA grocery store around 4.20pm.
An earlier police appeal for information about a black Mazda hatch driven by a man resulted in the driver of that vehicle coming forward. He has been discounted from having any involvement in Ms O'Sullivan's death.
Detective Senior Sergeant Stuart Bailey said investigators believe Ms O'Sullivan most likely knew her attacker as she was known to be security conscious. "There were no signs of forced entry to the property which makes us believe that Traci has willingly let her killer into her home," he said.
He also believes the killer may have received injuries during the altercation. "Given the nature of Traci's injuries we believe that the person responsible may have suffered cuts to their palms or hands which may have required medical attention.
"If you believe you know of someone with unexplained injuries like this around the time of Traci's death, we would like to speak to you. This includes anyone within the medical field who may have treated someone with injuries like this.
"No information is insignificant; if you think you may know something contact Crime Stoppers and let us decide if the information can help. Your information might be the piece of the jigsaw we are missing."
Detectives have spoken to many people, including Ms O'Sullivan's friends, however, they have been unable to establish a motive for the killing.
"We have conducted lengthy inquiries with friends and acquaintances to try and identify why Traci may have come to harm and have also been able to ascertain Traci was active on social media," Detective Senior Sergeant Bailey said.
"We are keeping an open mind but have not been able to establish a reason why anyone would want to kill Traci.
"We are appealing for anyone who may have seen her in the days leading up to her death, and for anyone who had direct contact with her on social media to contact police.
"Traci has a young son, loving parents and two sisters who are desperately seeking answers to this family tragedy."
Anyone with any information is urged to contact Crime Stoppers on 1800 333 000 or submit a confidential crime report at crimestoppersvic.com.au
First published in the Frankston Times