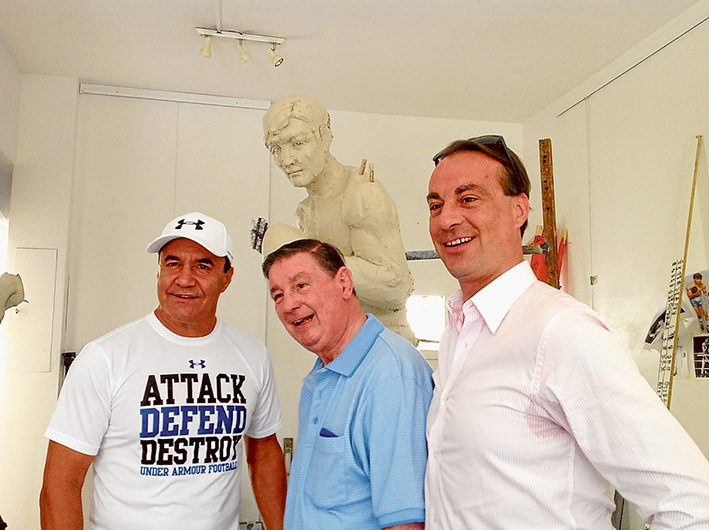 AFTER four years of planning and fund-raising the Frankston RSL's Johnny Famechon statue project is getting closer to reality.
Stephen Glassborow will soon finish sculpting the 2.1 metre clay model and is getting ready to make the mould for the 600kg bronze pour. When complete the statue will look exactly like the 2.1 metre clay model.
Former triple world boxing champion Jeff Fenech, Famechon and son Paul, and statue coordinator Gary Luscombe, met at the artist's studio last week to see how things were progressing.
Famechon was world WBC featherweight champion 1969-70 and Fenech WBC featherweight champion 1988-89.
After the pour the statue will be taken to Ballam Park and then unveiled.
Those wanting to sponsor or donate should visit johnnyfamechonstatue.com or see the Facebook page Johnny Famechon statue project.
Others may want to support the project by buying limited edition memorabilia, or sponsoring one of 68 plaques to be set into the base of the statue. These will serve as a permanent record of his bouts, recording the date, venue, result and name of each of his opponents.
Sponsors names will be recorded in recognition of their support. To sponsor a plaque email garyluscombe@hotmail.com
It is hoped Fenech will be guest speaker at a fundraising event at Frankston RSL towards the end of the year.
He has just been awarded the title of 'WBC greatest featherweight boxer of the past 30 years' and his image will be used to promote WBC featherweight title bouts.