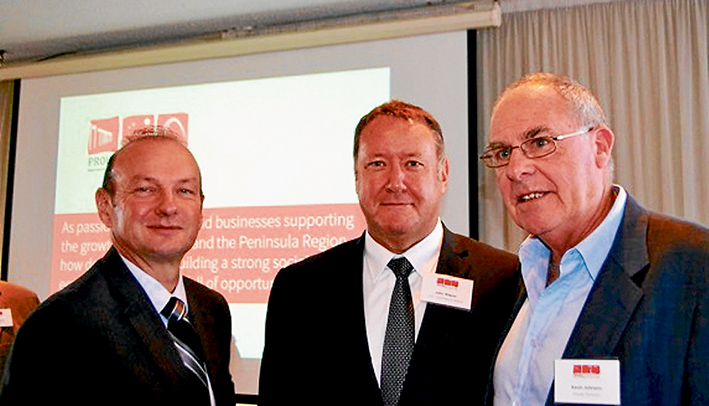 THE Proudly Frankston Campaign is sowing the seeds for a regional committee to work on improved economic, social, cultural and environmental outcomes.
The business-funded Committee for Frankston would function like established advocacy groups throughout Australia, including Victorian regional committees at Geelong and Ballarat.
The role of the committee would be thought leadership, advocacy, intervention and influencing outcomes that deliver increased economic activity and employment opportunities in the region.
Proudly Frankston president Alan Wickes said a steering committee now had the task of taking to the community a clear message about how a Committee for Frankston's would operate.
"It needs a regional focus and we must get a commitment of funding from the business community at the outset," Mr Wickes said.
The steering committee comprises Frankston Council CEO Dennis Hovenden, former mayor Christine Richards, Frankston Rotary president-elect Grahame Gordon, Flinders Partners Group partner Tim Percival and chartered accountant Robert Thurley.
Proudly Frankston hosted a breakfast at Frankston International on 5 May so that 50 people representing local government, business and education could hear Committee for Ballarat CEO John Kilgour explain his group's activities.
Mr Kilgour said his advice to a new Committee of Frankston would be to get together with all interest groups in the region, share expertise and collaborate on economic and social growth projects.
He said committees like Geelong and Ballarat were increasingly recognised as efficient and effective advocates of infrastructure, planning, employment and leadership projects.
Such committees collaborate with government, private enterprise, health and education services to help plan and prepare staged development projects that deliver benefits across the region.
"Governments tend to like it when you approach them collectively with well thought out projects that can be carried out over time and financed in smaller, bite-size pieces."
Mr Kilgour said Frankston should already be planning for a population doubling to 250,000 to 300,000 by 2050, "looking a long way past the four-year cycles of governments".
He said Frankston should be developing its own brand as a regional hub that already boasted capital city services like universities and hospitals.
Proudly Frankston president Alan Wickes opened with: "Today our challenge is to make a good city even better."
"We are throwing down the gauntlet to anyone in the Frankston region passionate about thought leadership, advocacy, and influencing."
"We will not depend on government at any level, but the community."
Mr Wickes said he felt "extremely positive" about a Committee for Frankston getting off the ground.
"We had an audience today representative of the community and it was telling that no-one left before the scheduled end. John Kilgour's message was terrific, but we must remember that it was a message 10 years in the making."
Mr Wickes said a Committee for Frankston could emulate Ballarat, which chose a leadership program as a foundation project. Ten years on the experiential program has 240 graduates, the next cadre of community leaders.
Ballarat's committee also run a Young Adult Employment program and contributes to plans for major projects, including the Ballarat West Growth Zone and redevelopment plans for the old civic centre and Ballarat railway station.
Mr Wickes said an existing Committee for Frankston was invited to the breakfast, but appeared to be no longer active.
"However, we stand ready to work with all Frankston and peninsula-focused organisations," he said.
While pressing for a representative committee targeting regional prosperity, Proudly Frankston has been establishing credentials as "a passionate supporter of our city", said Mr Wickes.
In two years the Proudly Frankston Campaign has launched a fully-subscribed Frankston Wine and Food Society and the annual Long Lazy Lunch that last November attracted more than 500 people to hear jazz great James Morrison.
This year Morrison will extend his Frankston stay to take music master classes at Frankston High School for regional secondary students.
As well as financing the master classes, Proudly Frankston has donated the money it has raised to local charities.
Also, it has supported the proposed Frankston Park community entertainment centre. 
Tony Murrell