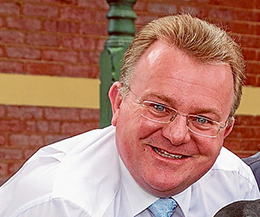 THIS year's federal budget has been dubbed "the small business budget" and Dunkley Liberal MP Bruce Billson has been right in the thick of it, as you'd expect from the Small Business Minister.
The minister said it had been an honour to help craft a "significant small business and jobs package" for the budget. 
"For us in our community small business is the economy," he said.
"It's the largest small business package that the nation's seen. It's something I've been working on and advocating for for some time and has been the key focus of my work for many years."
Mr Billson, a former small business owner in Mornington himself, said he understands the challenges faced by small businesses and is keen to help "hard working" owners create jobs.
The Abbott government has committed $5.5 billion to give small businesses a 1.5 per cent tax cut and allow small businesses, with a turnover of less than $2 million, to claim a tax deduction on business items costing less than $20,000.
Mr Billson denied the tax cut and incentive is reckless given the Abbott government's pledge to cut the national deficit.
"What we've done in this budget, wherever we've had new initiatives we've made sure they've been more than offset than savings elsewhere in the budget."
The $5.5 billion small business package had been primarily funded by dropping the Liberals' proposed paid parental leave scheme. He denied walking away from the scheme is not a broken promise despite Prime Minister Tony Abbott describing it as his "signature" policy before winning government.
"It's a bit rich when people say that," he said.
"Labor runs around and is quite shrill and divisive and incredibly aggressive in its opposition to things the government wants to do, blocks them and then gloats about the fact they've blocked them, then squeal we have to take a different course."
Mr Billson said the Coalition government was forced to drop the paid parental leave scheme because its opponents in the Senate made it clear it would not be passed.
The member for Dunkley said he was not sure who coined the "Have a Go" slogan for this year's budget.
"It does encapsulate the idea that we're an optimistic country and we have ambitions and if government can create the right conditions that turn ambition into action that's a good thing."
When asked about the Liberals' fondness for three-word slogans – think "Stop the Boats" and "Axe the Tax" – Mr Billson said there is not much point in governments working hard on policy but failing to "connect with the audience".
"You do need to encapsulate at times all different kinds of thoughts and ideas into a communication method that gets the ideas across and doesn't bore people witless," he said.
The phrase "Have a Go" is meant to encourage people "with hopes for their future" to "get amongst it if you've got an idea to grow your business – let's do it."
As Small Business Minister, Mr Billson said he cannot ensure every business is successful but he can strive to remove obstacles and barriers to business.
As for Frankston, he said he is encouraged to see some new and different businesses arrive in the community.
"We need to deepen and broaden the nature of the local economy."
He admitted retail is challenged by "disruptive" market forces and he is keen to see Frankston businesses harness new technology to win business from online competitors moving into their market.
In his budget reply speech he called Joe Hockey's second budget as Treasurer "a hoax, a mirage, a smokescreen" that will fail to fix Australia's national deficit.
Mr Shorten slammed the budget for failing to invest in infrastructure or prepare the country "for the digital age".
Mr Billson believes Labor has a short memory when it comes to deficits.
"The previous [Labor] government had a capacity to spend money and build in financial commitments without turning its mind to how to pay for them.
"As is so often the case we get elected to fix up the mess and then deal with the challenges of change and adjustment to try to get our finances and the country back on track."