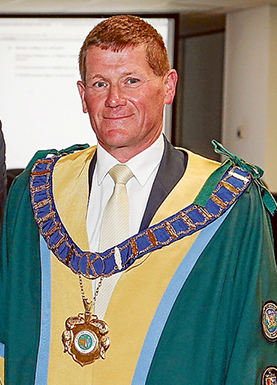 ANY imminent threat of additional concrete crushers in Kingston's Green Wedge has receded but a longer-term battle over materials recycling plants in the area looms.
The News can reveal Planning Minister Richard Wynne has extended interim protection against materials recycling in the Green Wedge.
Council asked the Planning Minister in February to extend the protection for an additional 18 months until land north of Kingston and Heatherton Roads can be rezoned from a Special Use Zone that facilitates waste-related activities to a Green Wedge A Zone.
The mayor Cr Geoff Gledhill told The News on Tuesday that a 12-month extension had been granted by the Planning Minister.
The protection clause was granted by Mr Wynne's predecessor as planning minister, Coalition opposition leader Matthew Guy.
This is the second time the interim protection has been extended.
Councillors voted at Monday evening's council meeting to proceed with the formal request – known as the C143 Amendment – to state government to rezone the land.
Clarinda residents have made it clear to council they do not want existing licences for landfill and waste recycling operations renewed in Kingston's Green Wedge due to odours and dust.
The Alex Fraser group lodged an application late last year to extend a permit for its concrete crushing operations in Clarinda until 2038 ('Concrete path blocked', The News 24/12/14).
Lantrak applied for a permit to set up a materials recycling and transfer station operation at their landfill site at Kingston Road, Heatherton.
The Green Wedge had been vulnerable to waste recycling business applications while council awaited the interim protection clause extension from the Planning Minister.
Cr Gledhill said council's decision to seek formal rezoning of the Green Wedge land in Kingston's north is "a major milestone".
A state government panel hearing held in March considered submissions from concerned residents. Businesses keen to continue waste recycling in the area also made submissions.
"For too long Kingston's northern residents and businesses have had to live with offensive odours, seagulls in plague proportions and dust in their neighbourhoods all related to landfill in the area," Cr Gledhill said.
"The last few remaining landfills in Kingston's Green Wedge are set to close soon and we are just one final step away from closing the door on any new facilities opening up.
"We're now seeking the Minister's support to make this vital change for the Kingston community."
Despite the latest moves to protect the Green Wedge, there remains a possibility that waste operations could be established in areas earmarked by council for a 'chain of parks' for public use.
State government agency Sustainability Victoria has named the Clayton-Dingley area as one of several possible locations for a waste hub for Melbourne due to its "access to transport networks".
While the state government panel recommended the C143 Amendment be approved, it also said several areas of land should be exempted from materials recycling protection "as in the future they might be required to perform a waste role".
"Kingston has been absolute that our Green Wedge will not be a waste hub for Melbourne," Cr Gledhill said.
"The Green Wedge is simply no place for a waste hub especially given our desire to make it 'green again' through our Chain of Parks project.
"Kingston is willing to play its part in hosting modern state-of-the-art waste recovery facilities but these should be directed towards industrial areas and away from parklands."
First published in the Chelsea Mordialloc Mentone News – 27 May 2015