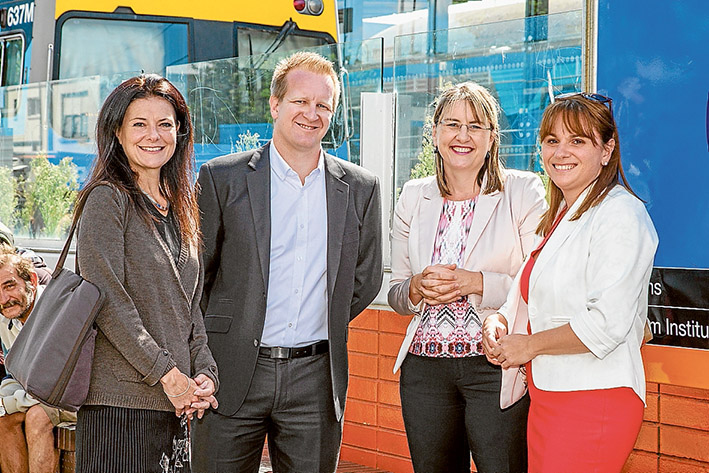 SIMMERING tensions between Frankston Council and the Labor state government have boiled over mere months after last November's state election.
Simmering tensions over major projects such as the Frankston station precinct redevelopment has seen council launch an attack on the state government.
The mayor Cr Sandra Mayer released a statement last Friday (29 May) blasting the Andrews government over its lack of commitment to a container port at Hastings.
"After six months under Labor, the south-east Melbourne region is going backwards with major road, rail and now freight projects being scrapped, and the Mornington Peninsula environment and tourism industry again under threat from dredging," the mayor said in the statement.
"If the state government is canning the Port of Hastings expansion we expect an announcement of a serious injection of funds from the Jobs and Investment Fund and the Regional Jobs Fund into the south-east Melbourne region, or else our residents will have every right to feel forgotten about after helping deliver Labor into power."
The government tabled a Port of Melbourne Lease Transaction Bill last week in Parliament, which will offer a 50-year lease to any buyer of the Port of Melbourne.
The government hopes to privatise the port and plough the funds raised into funding its ambitious public transport improvements including the removal of 11 level crossings along the Frankston rail line.
A 50-year lease has thrown doubt on Labor's commitment to a second port at either Hastings or Geelong's Bay West.
Liberal Opposition Leader Matthew Guy says a refusal to develop a second port for the next 50 years "is highly irresponsible, anti-competitive and will cost Victoria jobs".
"What Daniel Andrews is effectively doing is providing a leaseholder with a 50 year monopoly. That will only harm Victoria's development," Mr Guy said.
Frankston councillors unanimously backed a public campaign by council "to highlight that the council will not accept the Bay West port as a viable option and the possible environmental and economic impacts to the Frankston City Council from significant and unnecessary dredging of the bay".
Cr Mayer said "a BayWest option or Port of Melbourne expansion will require further devastating dredging at the Port Phillip Heads".
"Around 40 per cent of cargo ends up in Melbourne's south-east, so the Port of Hastings expansion makes sense, would provide a much-needed economic boost to our region and help us tackle the serious issue of unemployment, which is only getting worse."
Frankston Labor MP Paul Edbrooke hit back at council over its criticism of Labor's policy on the Port of Hastings.
"Where is a copy of the business plan that the council is endorsing for Western Port? Certainly I've never seen one," he said.
"If they want an alternative plan to be considered, they need to actually have one. I'd love to be able to work with Frankston Council but it appears more and more that they can't even work with each other."
Council is also at loggerheads with the state government over the $50 million redevelopment of the Frankston station precinct and an upgrade of the Western Port Highway including a full interchange at Ballarto Rd.
"Labor's Minister for Roads Luke Donnellan joined Jude Perera and [now Carrum MP] Sonya Kilkenny at the Ballarto Rd intersection in July 2014 and said 'we will see traffic chaos through Cranbourne and Frankston' without a full interchange," Cr Mayer said.
"Now the state government has handballed the issue to a panel hearing, effectively opening the door for traffic chaos not just in Cranbourne and Frankston, but particularly for local communities in Carrum Downs and Skye."
Council has also noted just $13 million was allocated towards the Frankston train station revamp in the Andrews government's first state budget announced last month.
Mr Edbrooke says the $50 million project will be fully funded.
See 'Port lease plan pushes Hastings back 50 years' for more.