NEPEAN LEAGUE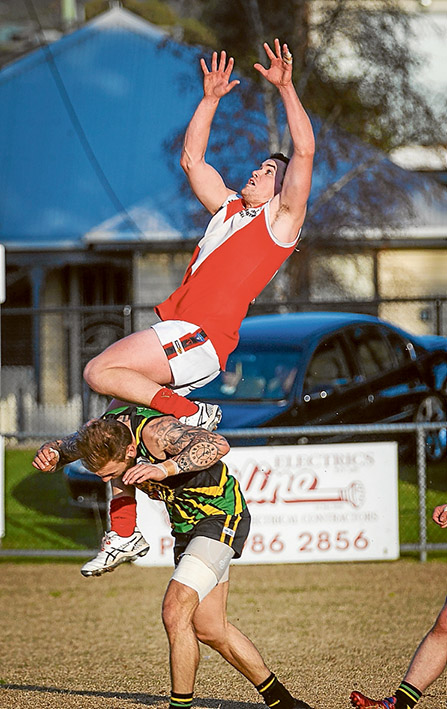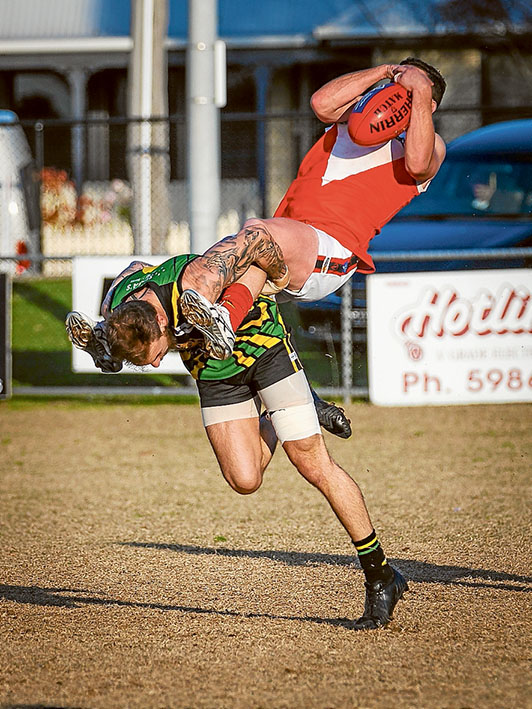 Speccy-tacular: Red Hill went down to Dromana in Sunday's Nepean League game despite this marvellous mark. Final score Dromana 9.15 (69) to Red Hill 7.6 (48). Pictures: Andrew Hurst
RYE came from 17 points down at three quarter time to beat Sorrento by the smallest of margins in Nepean League football on Saturday.
In front of a massive crowd that pushed beyond 3000 people, Toby Woodford copped a head high tackle with less than a minute on the clock and went back and kicked the goal from 20 metres out to seal the win for Rye 12.12 (84) to Sorrento 11.17 (83).
Rye then pushed numbers behind the football and made it an arm wrestle in the tense final moments of the game.
It was the second time in as many weeks that Sorrento has been overrun in the final term. Crib Point inflicted the same pain on the Sharks last week.
A jubilant Rye coach Josh Moore, a former Sorrento premiership player, revealed his team went into the match with some set plans they were able to execute.
"We thought we were close enough at three quarter time and you could sense a bit of a momentum shift at that stage," he said.
"We were well aware of what Crib had done the week before and we were still full of running.
"It was a tight, high intensity game of footy. I think both sides played a really good brand of footy and gave the supporters value for money.
"There was nothing in the match all day. Steve Ryan (the runner) came out to me in red time and told me that there was less than a minute left. At that stage we were five points down. Then Woodford put us in front."
Former Hawthorn ruckman Simon Taylor was the difference between the sides in the end.
"Squizzy was superb for us over four quarters but he really stood up and showed enormous leadership in that last quarter. He willed us over the line," Moore said.
"Matt Dunn was also great on Leigh Poholke. 'Polk' kicked three goals in the first quarter and you wonder whether you should make a move, however, I had faith and he kept him goalless for the remainder of the match."
Despite the win and being equal top on the ladder, Rye isn't getting ahead of themselves.
"We set ourselves some short term goals and we are ticking all of those boxes off at this stage. We'll set some more short term goals and start on them. It's not a sprint," Moore said.