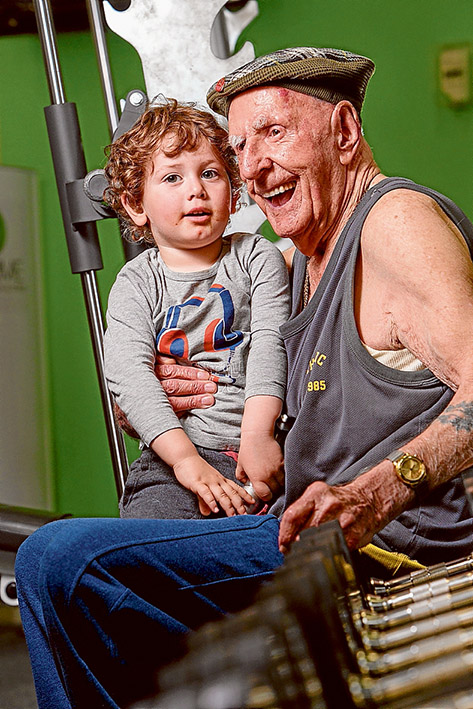 A DIFFERENT time; a different ethos; still Australia and still "The Lucky Country" – but only for some.
Unfortunately, it wasn't so for 93-year-old Seaford man George Waters who, when aged only four, was taken from his mother along with his brother and "institutionalised" in a Parkville orphanage from 1927-1939, making him what we term now a "Forgotten Australian".
Mr Waters was one of up to 500,000 children and child migrants taken into institutions or out-of-home settings in the first half of last century.
This came about mainly through poverty or family breakdown – perhaps a parent was in prison, suffering severe illness or even war trauma – at a time when there was little support for families in crisis.
The, residential institutions run by government and non-government bodies were the usual form of out-of-home care at the time.
Children from these institutions were then sometimes placed in foster homes for short periods, weekends or over the holidays. This changed to smaller group care in the 1950s and moved away from institutional care to kinship and foster care in the 1970s.
Sadly, many of the children suffered neglect, physical, emotional and sexual abuse while in care. The trauma never leaves them and impacts them – and their children – throughout their adult lives.
The Senate used the term "Forgotten Australians" when reporting on its 2003–04 Inquiry into Children in Institutional Care.
But Mr Waters is a survivor par excellence. His capacity for life and strength of will was celebrated on Friday when family, friends, carers and fellow gym members got together to say happy 93rd birthday to a man who inspires and motivates them.
Guests included the mayor of Frankston, Cr Sandra Mayer, Forgotten Australians' representative Caroline Carroll, and Brotherhood of St Laurence aged care manager Carolyn MacAlister.
Daughter Beverley Allen said her dad was "detained" at the Depot orphanage at Parkville – behind the zoo – with his brother, Bill, who is now deceased.
"It was a 'feeding' institution that referred children to other orphanages," she said.
"Dad was taken there in the Depression times when his father died and his mother had two of his sisters to care for; money was scarce.
"They were denied schooling for the entire time they were there and told it was due to a skin condition they had developed: psoriasis. Instead, they were made to work and look after the other children by bathing, dressing and making beds."
In his teens, Mr Waters was regarded as a trusted orphan and charged with taking the Depot's paperwork to the city office above Flinders St station.
He chained a leather kit bag to his wrist and rode in the tram to deliver his cargo, returning with other documents.
On leaving the Depot, he got a job as a "runaround" in the circus, then at Victoria market and later on the Yarra river paddle steamers, where he met his wife – Beverley's mum – Edith, who died aged 93 in December.
Beverley's admiration is evident as she describes his early working life.
"As a young husband and father, and being self-taught by this stage, dad started a trucking business with a five-tonne truck.
"Back in those days of no work regulations, and being self-employed, he had to load everything by hand," she said.
"He would load up with five tonnes of bags of salt, or sometimes asbestos, and then unload it at the other end.
"It was not unusual for him to deliver four or five loads like this every day. The more he worked the more he could support his family of four children and wife and buy his first house."
The challenges of his early life were always shared by his family, who support and empathise with him. However, the records of his traumatic upbringing have been lost and the law firm representing him in a class action say this negates his claim for any compensation.
In 2009 an official Australian Government apology was made to those who had grown up in institutional care, including former child migrants to Australia.
Then Prime Minister Kevin Rudd apologised for the abuse, neglect and callousness of their treatment.
Some state governments have even funded redress schemes for those abused in care.
"I took dad to Canberra for the Sorry Day where he got to meet Mr Rudd and [now Communications Minister] Malcolm Turnbull and [Families, Community Services and Indigenous Affairs Minister] Jennie Macklin who sat and held his hand and talked to him for a half an hour," she said.
"Dad is perhaps one of our oldest living Forgotten Australians and is such an inspiration to the younger gym members it was decided to put on a celebration party at the gym."
Mr Waters – who is now blind through macular degeneration – lives independently in Seaford supported by an aged-care package from the Brotherhood of St Laurence.
"This has not deterred him from keeping up his mobility and strength over the years, a very important priority for him," Beverly said.
"He attends gym twice a week with a carer who assists him going from machines to weights.
"He has quite a vigorous workout, including treadmill, rower, leg press and free weights, and also works out at home each day with free weights and step exercises."
It's likely that these physical challenges are nothing to a man who has survived so much and simply takes it all in his stride.