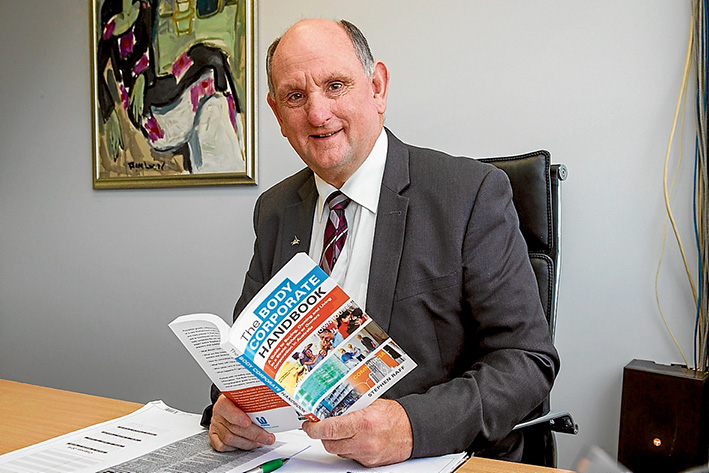 THERE is not much Stephen Raff doesn't know about body corporates. He has accumulated so much knowledge as founder and CEO of Ace Body Corporate Management over its 20-year history, he could write the book on owner corporations.
In fact, he has. It's called The Body Corporate Handbook.
Ace Body Corporate Management celebrated its 20th anniversary last week and has grown from its modest beginnings in Mentone with one employee – its founder – to more than 300 employees and franchisees across Australia.
The company, now based in Mordialloc, is a behind the scenes Kingston business success story and manages common property such as swimming pools, walkways, shared hallways, gardens and car spaces at apartment complexes and housing estates on behalf of owner corporations.
Mr Raff describes the job as being "20 per cent facility managers, 20 per cent lawyer because we need to know where to go about all the different legislation, 20 per cent bookkeeper … and we have to be psychologists and engineers too".
Ace Body Corporate manages more than $20 billion worth of assets across the country – including the Waterways estate in Kingston – and is the largest fully Australian owned strata management organisation.
In recent years the company has taken the lead in advising owner corporations about the dangers of "concrete cancer".
Buildings, especially those built before 1990, can be susceptible to rust in reinforced steel and concrete potentially making residences structurally unsafe.
Buildings near coastal regions or "in an aggressive atmospheric environment" can be prone to concrete cancer.
"[Concrete cancer] is when the steel rusts and swells up," Mr Raff said.
"Building owners should look for reddish brown stains adjacent to any cracked concrete or running down any part of the building. White crystals forming can also be a danger sign."
He recommends an engineers' report should be done every five years.
"If you don't catch it in the early stages … reinforced steel and concrete can be exposed to the weather and that's a problem."
The rise of the "sharing economy" in the form of rental accommodation website Airbnb is a modern dilemma for owner corporations.
Apartment owners and renters can sublease rooms via Airbnb and Mr Raff says body corporates need to be aware of the insurance implications since regulations differ across states, governments and councils.
"The problem is Airbnb will insure the unit owner who is renting out the property … they'll insure any damage that occurs in that unit itself but they won't insure any third party damage."
Third party damage can include dents and scrapes in common hallways when moving furniture in and out for short-term stays.
Damage to neighbouring properties is also a concern.
"If there's any damage, for example, if they [an Airbnb tenant] leave the bath running and water leaks into the unit before – Airbnb will not cover their damage.
"There's so many grey areas."
It all adds up to a changing business for Mr Raff mostly hidden from sight from public view but touching so many lives on a daily basis.
"We believe in community living because those days are gone. People don't have the church network that they used to have or the social clubs so much. They need communities so we create communities."
First published in the Chelsea Mordialloc Mentone News – 10 June 2015