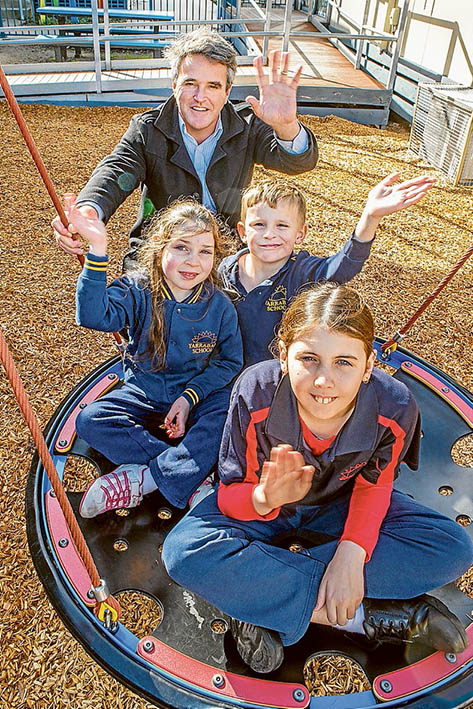 A SPECIAL needs school in Aspendale has special needs of its own.
Rising enrolments at Yarrabah School, which provides programs and curriculums for children with intellectual and psychical disabilities, is putting pressure on its portable facilities.
Principal Matthew Harris said 20 of the school's 24 buildings are relocatable "temporary" buildings and a plan and funding are needed to provide a permanent school "for our students with disabilities to be provided with the best facilities they deserve".
"The school is growing and as we grow we continue to add relocatable buildings."
"A relocatable master plan has been talked about but that's not good enough. We need a master plan for a permanent school."
The school has 155 school aged students between the ages of 5-18, about 65 kinder aged students and also runs a playgroup.
"We're expected enrolments of the school aged program will go up to 170 as a conservative figure," Mr Harris said.
He said the Department of Education provides more relocatable classrooms as student numbers rise but it has reached a point where this is unsustainable in the long term.
Families from Kingston, Frankston, Carrum Downs, Mt Eliza, Caulfield, Brighton, Dandenong and Dingley enrol students at the school.
"The school has certainly shown that it can cater for a big enrolment and the programs and the curriculum is very popular among the community which is why we have so many choosing to come here," Mr Harris said.
Mordialloc Labor MP Tim Richardson has asked Education Minister James Merlino to visit Yarrabah School to see "an exceptional example of giving all students with special needs the best possible outcomes".
"Yarrabah has experienced unprecedented growth in student numbers in the region," Mr Richardson said.
"In 1990 Yarrabah had a total of 19 children and it has expanded year on year to over 150 children today.
"The motto of Yarrabah School is 'The small school with a big heart', and the school is renowned in our community.
"I believe we need to assess the long-term requirements and needs at Yarrabah and determine whether current arrangements are appropriate.
Mr Richardson hoped the state government can work with the school community and determine its future demands to "get the best outcomes for the students and their families on site".
First published in the Chelsea Mordialloc Mentone News – 10 June 2015