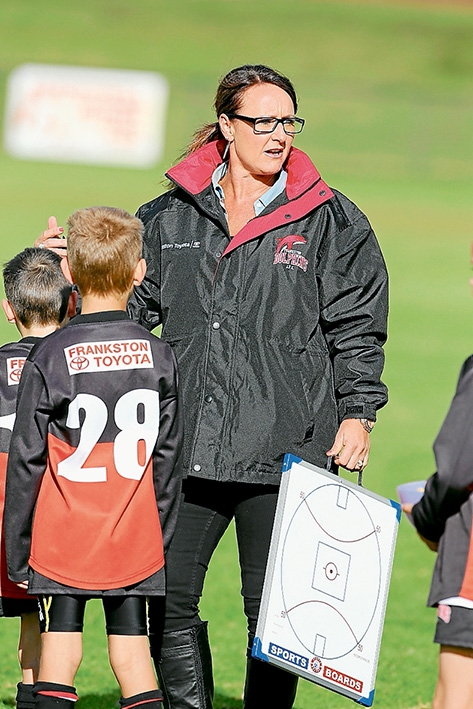 WHEN her son Archie's under 9s football team lost its coach Nic Hough had a big decision to make.
The personal fitness coach pitched in to exercise her training expertise and become the first woman to coach a team at Frankston Dolphins Junior Football Club.
The under 9s team's former coach moved up an age division with his sons and when no other coaching candidates came forward Hough decided to act.
"I put my hand up … they didn't have anyone else and they need a coach."
Coaching a kids' basketball team and helping clients keep fit at her Nic Into Shape personal training meant she was confident about training sessions but she admitted she had a lot to learn about football.
"I basically did my own research and a coaching course," she said.
"The personal training aspect wasn't an issue, it was just knowing the positions on the footy field."
Nic praised her team as "a great bunch of kids" who are improving their game each week.
"I'm having a ball. I love to see kids playing sport – that's the main thing."
Club president Nick Old said Nic is doing "a fantastic job".
"I've watched her at training and on game day and she's very positive with the kids."
Coaching 20 boys under the age of 9 has its challenges, according to Nic, not least in getting them to listen to the coach's instructions.
But it's all about keeping the kids active and having fun.
Nic said teaching players, even those who may not have natural skill and ability at such an early age, "to believe you can do something" is a sporting high.
"They just have to get out there and have a go and push their boundaries a little bit," she said.
Nic's brother, Red Hill player Blake McCormack, has been helping the head coach devise training drills for her team.
It's a real family affair with husband Michael and son Liam and daughter Phoebe helping out at training too.
"All the parents have been a great support," Nic said.
"It's been good for me too. I love football and it's been great to find out all about the different [player] positions."
No scores are kept at under 9s games due to an AFL edict effective from last year but Nic said the team knows when they've won a game and have just dropped one in the first seven rounds of the season.
"My boys certainly know when they've kicked a goal and they're winning the game."
The improvement in many players' games this season has been noticeable, Nic said, with shepherding coming into play and handballs hitting their targets more regularly.
"It's a great sport. It's good for them individually too to give them confidence.
"The Dolphins junior club is growing and getting stronger and stronger every year. It's a really good family club."