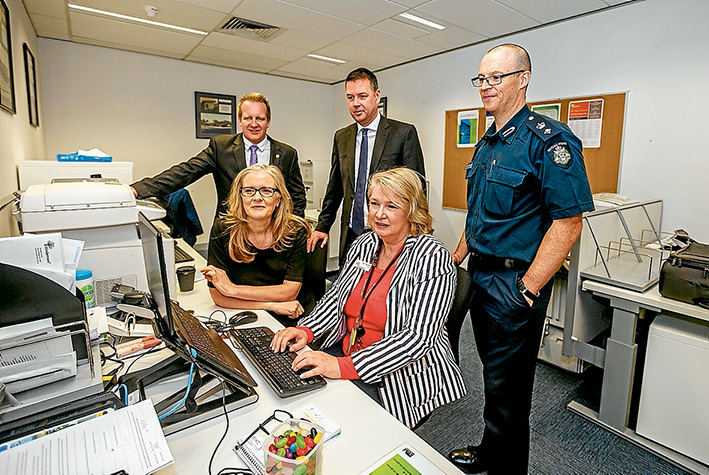 FRANKSTON police and Windermere Child and Family Services have combined to provide victims of crime with the support services they need in a crisis.
The Windermere Victims Assistance Program operates at Frankston police station two days a week servicing clients at Frankston and on the Mornington Peninsula.
Services provided through the program include practical and court support, counselling and helping prepare victim impact statements, Victims of Crime Assistance Tribunal applications and submissions to the Adult Parole Board.
Police and program staff say the co-location assists in better communication and education between police and Victims Assistance staff, resulting in better outcomes for victims of crime, including family violence.
Acting Superintendent Karen Nyholm said the co-location provided victims of serious crimes with a support network when they needed it most. "We wanted to provide a more professional, complete service to victims by helping to create meaningful linkages with support services," she said.
"Victims won't always reach out for help – they need guidance and support."
The partnership means police can directly connect victims with Windermere staff when the crime occurs. This might be in person or over the phone, but most importantly it takes place at the time the victim needs it most.
"The arrangement has been in place since January and already we've seen a higher rate of successful referrals," Act. Supt. Nyholm said. "By having Windermere staff at the station, police are able to build better relationships and engage with the service to see firsthand how it works and benefits victims."
The Windermere Victims Assistance Program runs 10.30am-3.30pm, Mondays and Thursdays. It is available remotely on other days.
Police Minister Wade Noonan commended Windermere Child and Family Services, along with other not-for-profit organisations that deliver the Victims Assistance Program in police stations across the state. "Victims of crime, particularly family violence, need to be supported," he said.
Frankston MP Paul Edbrooke said: "Officers at the Frankston Police Station are now better placed than ever to refer victims of crime to support services directly with the Victims Assistance Program being co-located at their station."