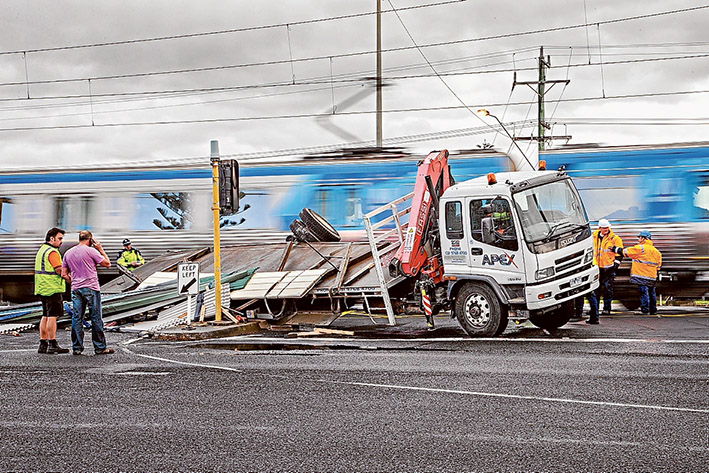 PENALTIES have more than doubled for crossing train tracks where boom gates are down or where there is not a designated crossing point.
The move aims to save lives and reduce trauma for train drivers, the state government says.
The Centre Rd level crossing in Bentleigh has had its share of near disasters over the past 10 years: two fatalities and 25 near misses , prompting a visit yesterday by Acting Premier James Merlino and Bentleigh MP Nick Staikos.
Mr Merlino said the number of trains hitting cars and pedestrians was too high, and that more needed to be done to deter people from sneaking across the tracks illegally. "People are getting seriously injured and killed on our train network," he said.
"That's why we are removing 50 of our most dangerous level crossings, while increasing the fines for illegally crossing the tracks."
He said the maximum penalty at court for unauthorised crossing of train tracks by motorists and cyclists had more than doubled – from $1467 to $3033. The infringement penalty for the same offence has risen from $295 to $607.
Pedestrians will be hit harder in the hip pocket, too. The maximum penalty at court for unauthorised crossing of tracks has more than doubled: from $738 to $1517. The infringement penalty has jumped from $148 to $379.
Mr Merlino said improving safety was at the core of the government's Level Crossing Removal Project.
He said the government was "getting on with delivering its promise to remove the most dangerous and congested level crossings".
These include Centre Rd, where work will begin this year and be finished by 2018.
Public Transport Minister Jacinta Allan said doubling the fines "will make people think twice about dangerously sneaking across the tracks".
"People just need to stop taking chances so they don't hurt or kill themselves and potentially traumatise train drivers, just to save a few extra minutes."
First published in the Chelsea Mordialloc Mentone News – 8 July 2015