NEPEAN LEAGUE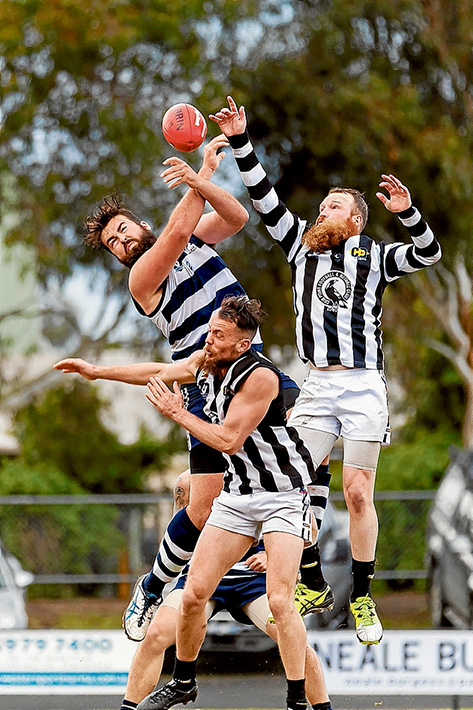 PEARCEDALE leapfrogged Crib Point on the MPNFL Nepean Division ladder on Saturday after coming from behind to earn a 17 point victory.
The Magpies, who played in a grand final against Sorrento last year, are now second bottom on the ladder with just two wins for the season.
The Pies led by 18 points at three quarter time on Saturday after booting six goals to one in the third, however, couldn't sustain the momentum in the last.
Pearcedale, through the likes of Michael Williams, who played his best game for the season with four goals, snagged five goals to one behind in the last to win 12.14 (86) to 10.9 (69).
Dylan Hoare and Pat Heijden (three goals) were also at their best for the Panthers, while Ben Mitchell controlled the ruck.
It's been a disastrous season for Crib Point.
Magpies' coach Duane Annable said everything that could have gone wrong has so for the Pies in 2015.
"In 2014, we had a dream run with injuries and we were able to win the close ones," said Annable.
"This season, we haven't had the same luck. We had a number of players have surgery at the end of the season and we had players injured in the pre-season.
"Really important players last season have rarely been sighted this season. In this competition when it's so competitive, you need to have everything going your way. For us this season, that hasn't been the case," said Annable.
Brad Davidson was at his best for the Pies on Saturday, as was Brad Arnold. Luke Herrington was also solid with three goals.
Keegan Downie and Tom Baker booted 10 goals each as Rosebud inflicted yet another 200-point loss on Tyabb.
The Buds took advantage of the opportunity to rest some stars with niggling injuries, however, it didn't prevent the 33.21 (219) to 2.7 (19) victory.
Jackson Cox and James Cottrell were the best of the Yabbies.
Yabbies have five-year plan
It's not all bad news for Tyabb though, who have launched their five-year-plan to rebuild their struggling club.
Vice President Robert Hansen announced that some past player legends, including former AFL player and Yabbies' premiership player Jamie Duursma, as well as premiership coach Eddie Fischer, were setting up a coterie group to assist with fundraising.
Former player and MPNFL CEO Steve Pallas is also supporting the club through Sport Community.
Hansen said being competitive in this competition wasn't all about the money.
"Football clubs are about the community, getting people involved, former players supporting their club," said Hansen.
"Tyabb Football Club has had too few doing all of the work for too long and this has to change. It's about to change.
"It's very frustrating for us to go to other clubs and see the level of support they have from people around their club.
"We can't continue to operate as a country footy club. We need to become a business.
"To help us achieve this, we have appointed a part-time general manager, who will manage all on-field and off-field matters. We plan to make this a full-time role sooner rather than later.
"We are absolutely committed to improving, staying in the MPNFL and being more competitive.
"We have no interest in joining any other league and this has never been a consideration for our club.