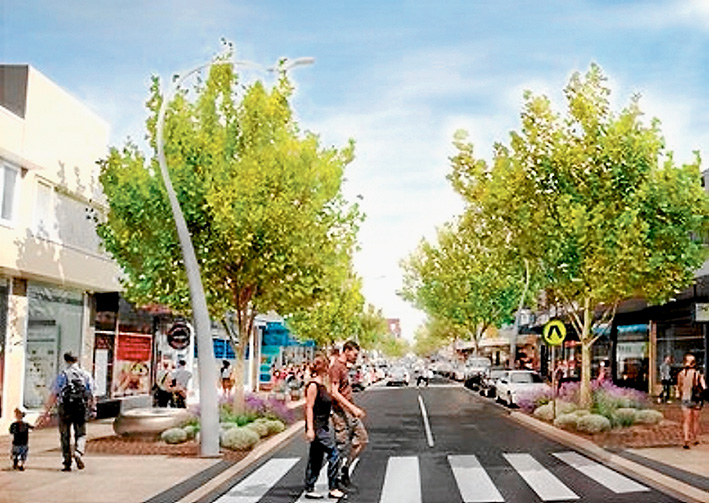 CHANGE is in the air in Frankston's city centre with new works under way in Wells St. More than $3.5 million is being spent beautifying the street, jointly funded by the council and the state government.
Poppyseeds Deli is looking forward to expanding its outdoor dining service on the wider footpaths being built as part of the streetscape improvements.
"The 'new look' footpath will create a fresh, clean space for our outdoor diners," trader Michael Stuart said. "Wells St is a 'must' for people in Frankston, with all the banks, post office and cafes and restaurants there.
"The streetscape works will improve opportunities for local business and will provide a modern and aesthetically pleasing environment."
The council is planning for increased foot traffic in the area, particularly with 700 South East Water staff now based in Frankston.
The streetscape project will make the area more attractive and will also improve pedestrian safety. As well as wider footpaths and new paving, 11 plane trees are being planted on what will be a tree-lined avenue, alongside gardens, new street furniture and pedestrian-friendly lights.
Designs unique to Frankston are being made into practical features, such as high quality sculptural seating and LED lighting made from stainless steel. The council is working with artist Darryl Cowie to create pieces tailored to Frankston's bayside roots.
Most of the streetscape works are being done at the Nepean Hwy and Young St ends of Wells St, but some enhancements are also planned for central Wells St.
Businesses are open at all times during the works, which are being staged to minimise inconvenience. Work is being done after-hours as much as possible. Construction is scheduled to end in October.
"Please support local traders by continuing to shop and visit the cafes in the area," the mayor Cr Sandra Mayer said. "The end result will be worth the temporary disruption. We're all looking forward to the completion of Wells St as a lot of planning and work has gone into this project.
"It's also exciting that the design palate has potential to be used in the future upgrades of Young St."
New businesses recently opened in Wells St include Stereo Espresso (café), Equinox Dreams (pop culture and gaming collectibles), Flight Centre (travel consultants), Japonica Day Spa (beauty and healthcare), Skin Deep Tattoos (tattooists), Beehive (a honey specialty retailer) and The Living Earth Co. (gift shop).