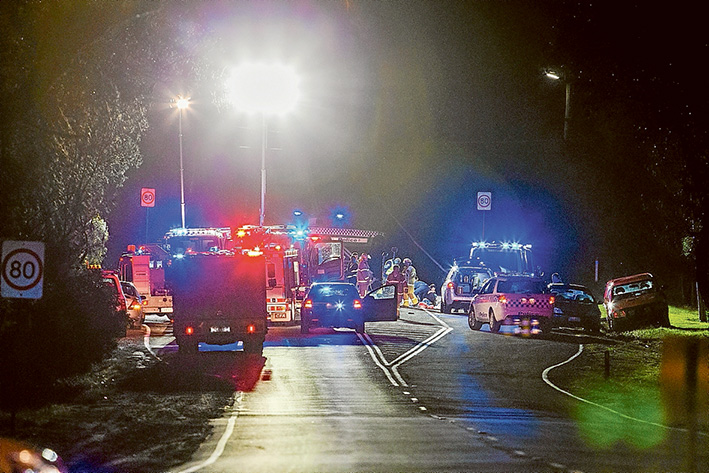 THE relevance of Frankston police's Operation Walker was highlighted early on Friday morning when a pedestrian was struck by a four-wheel-drive ute while crossing Frankston-Flinders Rd, opposite the football ovals and up the hill from Sages Rd, near Baxter.   
Paramedics reportedly restarted the 37-year-old man's heart after he went into cardiac arrest, and made him ready for air transfer to The Alfred hospital. He was in a critical condition on Friday. The driver of the car is assisting police with their inquiries.
Anyone who witnessed the incident is urged to call Crime Stoppers on 1800 333 000 or submit a confidential crime report at crimestoppersvic.com.au
"We pray that he survives," Frankston station commander Senior Sergeant Stephen Burt said. "If so, he will no doubt need many months – if not years – of rehabilitation to recover from his injuries.
"Do you want this to be you?"
Thursday's Operation Walker, 10am-6pm, involved 10 plain clothes police from Frankston and Transit Police who were on the look-out for improper pedestrian and anti-social behaviour around the Frankston railway station and the CBD.
Senior Sergeant Stephen Burt said 98 people were "spoken to" about their behaviour and 73 penalty notices issued, ranging from jay walking to other street offences.
"It is clear that pedestrian behaviour when crossing roads is high risk and full attention to the surroundings should be given when crossing roads," he said.
"It is vital that people understand the risks involved. Police will be further targeting vulnerable road users in the future to reduce this type of road trauma."
Operation Walker will continue throughout the year along with Operation Pedestrian Safe involving uniform and plain clothes police in the Frankston area.
Police appeal to pedestrians to take care on the roads and use pedestrian crossings where available.
"Arrogance on the roads does not mean immortality," Senior Sergeant Stephen Burt said.