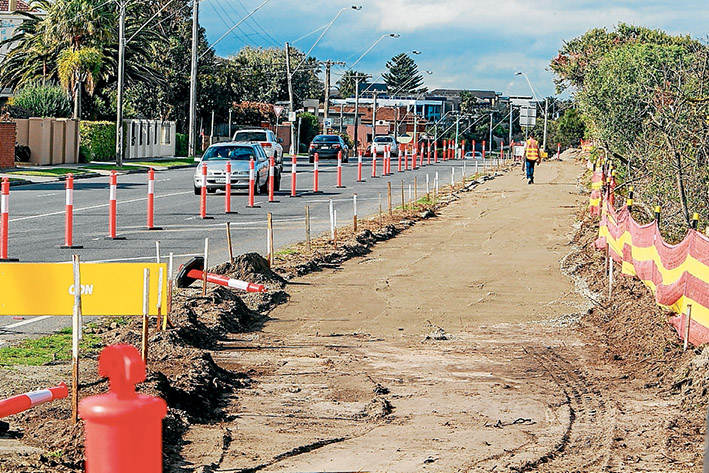 AN independent check of the Kingston portion of the Bay Trail being built from Charman Rd to Mentone Lifesaving Club has found the pathway's width conforms with approved plans.
There had been concerns that an excessive amount of vegetation had been uprooted from the foreshore at Plummer Rd where a new parking lane is being installed ('Trail works fail to measure up', The News 29/7/15).
Kingston mayor Cr Geoff Gledhill said an independent check by Complete Surveying has confirmed contractors hired to build the Bay Trail shared bike and pedestrian pathway had followed "the correct procedure" and built a three-metre path as instructed.
"The Bay Trail project is an important link to promote cycling and walking around Port Phillip Bay and will be a fantastic community asset," Cr Gledhill said.
"I'm pleased to be able to reassure the community that only the required approved amount of vegetation has been removed".
The mayor said council was happy to call in an independent surveyor to check out concerns that an extra 0.2 of a metre had been cut into the foreshore than was stipulated.
The surveyor's report did not cost ratepayers any additional expense since it was the same surveyor who did the original Bay Trail mapping work.
The Charman Rd to Mentone Lifesaving Club portion of the Bay Trail is in the final weeks of construction.
VCAT ruled against an appeal by the Kingston Residents Association, Mordialloc-Beaumaris Conservation League and Kingston Conservation & Environment Coalition in April.
The groups argued the Bay Trail could be built without the need for "excessive" vegetation removal.
At May's public council meeting, councillors voted to seek a report before beginning the next section of the Bay Trail from Mentone to Mordialloc.
First published in the Chelsea Mordialloc Mentone News – 26 August 2015