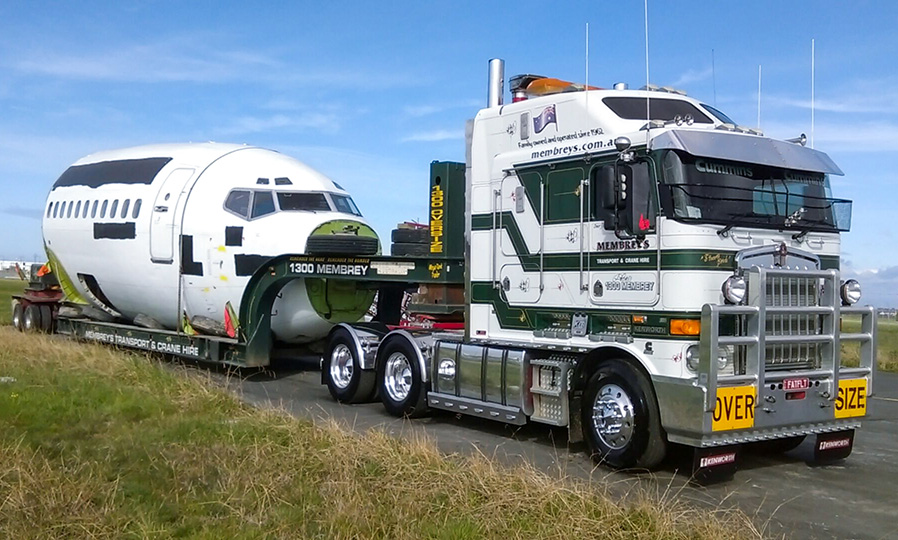 WATCHING apprehensively from a distance, Australian National Aviation Museum secretary Ewan McArthur was as proud and anxious as a new dad on Monday as his six tonne "baby" made its way slowly home from Tullamarine.
But, all went well on the 40km journey, despite an incident with one of the transport trailer's wheels, and the Boeing 737 fuselage, saved from the scrap heap, reached Moorabbin Airport in 85 minutes.
"Planes are aerodynamically designed to move very freely through the air," Mr McArthur said.
"We had to time our run to beat the school zones, but all went well."
The former US Metro Jet, built in 1982, and later flown by Philippine Airlines, was until recently used as an instructional aircraft by Kangan TAFE out of a Tullamarine hangar.
Deemed as being past its use-by date, the plane could have been flown out and sold overseas, but a missing cargo door prevented it flying.
The Lady Luck stepped in: "Someone out at the airport told us that it was going to go for scrap, so we put our hands up and said we'd take it," Mr McArthur said.
That move is seen as something of a coup. "It's a fantastic acquisition and will become a real drawcard for the interactive museum alongside a Viscount and DC3," he said.
"It is 'old-school' but still a valuable teaching tool. In aircraft-speak, 1982 is deemed 'old'."
But not everything ran smoothly in securing the asset.
"We still had to decant 15,000 pounds of fuel and get some of the internals stripped out: it took about a week to get everything ready," Mr McArthur said.
"We asked for the engines, large forward section, including the cockpit and controls, and said they could demolish the rest."
The plane is expected to be ready for the airport's Family Open Cockpit Day, 9am-5pm, Sunday 11 October. Visitors can inspect a Sea Venom, Victa, DC-9 Simulator, EE Canberra, B57 Canberra, Hunter, Firefly, Viscount Freighter, F-11 Module, Volksplane VP-1, Winjeel and Wirraway.
As for their newest "baby", it will be open and running with fans, controls and instruments all working.  "Visitors will be able to sit in the pilot's seat and pretend they are flying the plane as we encourage hands-on involvement," Mr McArthur said.
The museum, founded in 1962, is run by volunteers and members who take pride in its collection of aircraft and engines, models, uniforms and other items associated with Australia's aviation history.
The collection includes the oldest surviving Commonwealth Aircraft Corporation aircraft, the Wirraway A20-10, Victa AirTourer, DAP Mk21 Beaufighter, MIG fighter, Hawker Hunter, and a World War I display.
A total of 16 cockpits are open to visitors.
The museum, corner First St and Second Av, is open 10am-4pm weekdays and 10am-5pm weekends. 
Visit aarg.com.au for more information.
First published in the Chelsea Mordialloc Mentone News – 26 August 2015