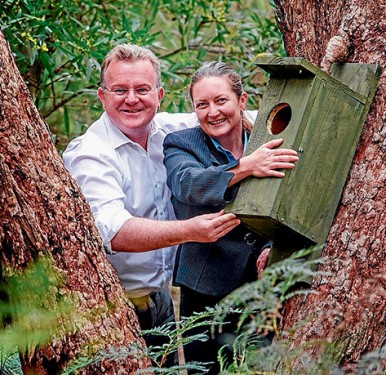 LANGWARRIN conservationist Ella Boyen has used an $11,500 grant from the federal government's 25th Anniversary Landcare Grants program to develop a community information sharing website, run public workshops and coordinate group activities to maintain and improve the Langwarrin Woodlands.
Ms Boyden has coordinated workshops on planning an ecological burn, wildlife survey and habitat improvement. She is currently part of a small group of passionate locals forming a new Langwarrin Landcare group. 
Despite being close to a suburban area, the woodlands has a rich range of habitat and animal life. 
The land varies from swamplands, to a riparian zone and open and heathy woodlands.
Some of the animals that inhabit the woodlands include echidnas, swamp wallabies, eastern grey kangaroos, sugar gliders, koalas and a vast range of other mammals, lizards and snakes, birds, fish and amphibians.
"The grant has helped the greater Langwarrin community as it covers fox and rabbit control over a number of properties over a square kilometre," Ms Boyen said.
"With a bandicoot sighting in Pearcedale recently, fox control and vegetation conservation could see bandicoots make a comeback from local extinction."
See langwarrinwoodlands.org for information about the project and upcoming workshops.
First published in the Frankston Times – 31 August 2015