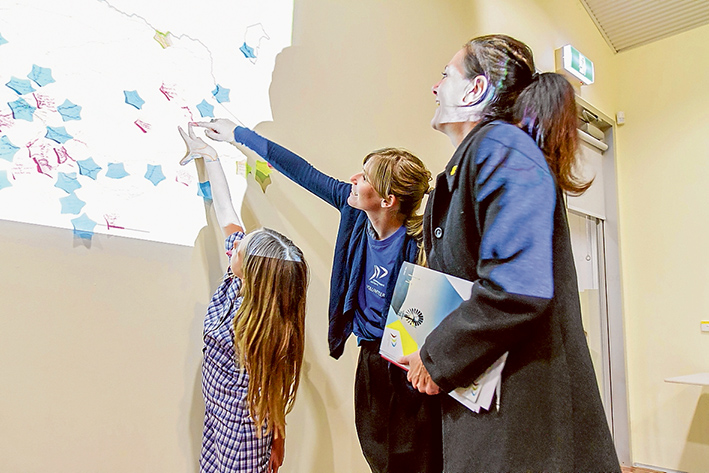 VOLUNTEERS mingled with state politicians on Monday at the launch of a report on climate change in Frankston.
Titled Six Steps to Climate Leadership, and published by Environment Victoria, the report shows how the state government could be a leader on climate change and clean energy – but is currently falling behind.
MPs Sonya Kilkenny (Carrum) and Tim Richardson (Mordialloc) attended the event to hear from peninsula Environment Victoria volunteers and supporters from a variety of community groups.
Environment Victoria community organiser Adele Neale said she asked people why they cared about climate change and cutting pollution. "Frankston locals are proud of our beautiful natural environment and want to see it protected," she said.
"Lots of people said they want to protect the special habitats and creatures on our coast and around Victoria.
"Frankston is fast becoming a hub for people who want to see more done about climate change. Environment Victoria works with the community in Frankston and we're always meeting people who want to get involved. It's clear that people here care about the environment."
Before last year's state election, Environment Victoria opened an 'Envirohub' in Frankston and the group continues to work here.
"The Frankston area now has more Environment Victoria volunteers than almost anywhere else in Victoria," Ms Neale said.
"Two volunteer groups meet regularly and organise events to build community power."
Environment Victoria's Safe Climate Campaign manager Dr Nicholas Aberle said Six Steps to Climate Leadership outlined the steps the state government could take so Victoria can join the pacesetters on dealing with climate change.
"We're seeing places like Scotland and Ontario building lots of clean energy and cutting their pollution," he said.
"Closer to home the ACT is aiming for 100 per cent clean energy by 2025. Our federal government is taking us backwards on climate change, but it's now clear that the state government has all the levers at its disposal to be a leader."
See environmentvictoria.org.au/six-steps-to-climate-leadership