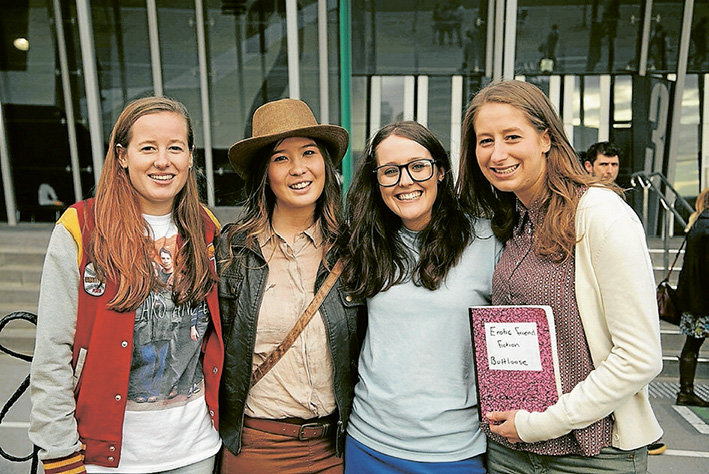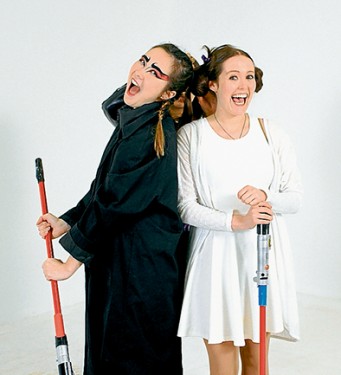 A LONGISH time ago, in an apartment not so far, far away two Edithvale sisters, Alyce and Hayley Adams, decided to turn their obsession with pop culture into a series of online short films paying homage to the movies and TV shows they adore.
The result is their i can't even comedy series poking fun at fans' passion for the likes of Star Wars, Harry Potter, The Hunger Games and Twilight.
The two main characters Em, played by Louise Cox, and Lex, played by Tiana Hogben, act as proxies for the sisters' own at times divergent views on pop culture icons.
The phrase "I can't even" is often used online to indicate speechlessness at a situation or opinion.
Alyce wrote the six episodes in the i can't even series and Hayley produced the episodes by corralling talented fellow students in their Victorian College of the Arts masters classes.
"We watch a lot of pop culture stuff and Alyce developed two characters because that would be the easiest thing to film," Hayley said.
"The idea was 'what would we want to see?'. We like pop culture, we like female comedy and also bite-sized entertainment so it kind of happened organically."
The talent pool at VCA meant the films project morphed into a bigger deal than original envisaged by the film-making sisters.
"We ended up having a whole list of people we could contact. That's how we had such professional effects in the Star Wars episode," Alyce said.
"That was originally just going to be with toy lightsabers but then the director said he knew someone who did special effects and so he came onboard so we were able to make it so much bigger than we originally planned."
Em and Lex clash in the episode called Join the Dark Side over a difference of opinion on whether the Star Wars original trilogy or prequels are superior.
Another episode sees the duo menaced by a life-size cardboard cut-out of Twilight vampire Edward Cullen.
"It's one thing to write into a scene a life size cardboard cut-out of Edward Cullen, and another to actually get one," Hayley said.
Thankfully the duo found a custom printer who agreed to produce a one of a kind cardboard cut-out of Cullen, also known as actor Robert Pattinson in real life.
The six episodes were all pre-planned to be filmed in one day at the sisters' Edithvale apartment, a posters and memorabilia packed shrine to pop culture classics.
"Everyone was super willing to help us and work but it was just trying to find time that everybody could do it at the same time. That was my main job in a way," Hayley said.
It took "a couple of weeks" to pre-plan an episode before a ten-person crew got together on weekends to shoot a three-to-six minute short.
"A lot of it's on the fly but the crew come in and think about how to use the room to shoot it," Hayley said.
The top-quality production values are "a testament to the crew we had onboard", according to Alyce.
The writer enjoyed seeing her on the page creations come to life on film.
"I wrote all the episodes and then after a first draft got feedback from Hayley and the directors would also give me their notes on what they were thinking as well," she said.
"It was a good way to experiment with comedy and a bit of drama."
There is little drama between the twins while making the journey together from page to screen since they feel they can be fairly "brutal" with each other during the film-making process.
"I write and come up with the idea but then Hayley has to actually make it happen. She's definitely the one in charge and I'm pretty happy with that relationship," Alyce said.
"Sometimes we get annoyed at each other but because we're sisters we can fight and ten minutes later it's fine," Hayley said.
"Maybe that's the biggest advantage. We actually can yell at each other."
As for the future, the sisters could be destined to follow in the Hollywood footsteps of such illustrious sibling film-makers as the Cohen brothers (The Big Lebowski, Fargo) and the Wachowskis (The Matrix, V For Vendetta), but for now are focused on work closer to home.
Hayley works for "a company in Melbourne that deals with writers, directors and actors" while Alyce says she spends most of her spare time watching a certain Australian soap opera.
"I want to try to write for TV. That's my goal so this [i can't even] is kind of a proof of concept for people who might want to hire me.
"I've been watching a whole lot of Neighbours. I want to get on to the writing staff."
See facebook.com/icantevenseries or 'i can't even web series' on YouTube to watch all six episodes.
First published in the Chelsea Mordialloc Mentone News – 2 September 2015