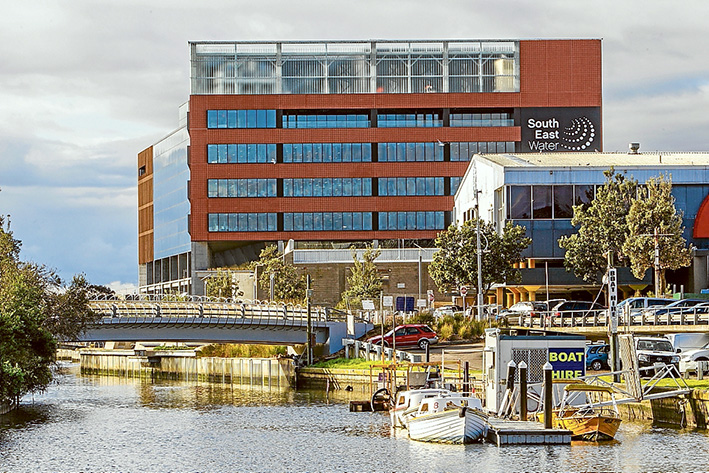 THE jobs tap will finally be turned on at South East Water's new head office in Frankston four years after the water utility company agreed to make the move to a new Nepean Hwy building alongside Kananook Creek.
The company's new towering eight-storey 25-metre high office building on Frankston's waterfront will officially open for business on Monday (14 September).
Frankston Council controversially ignored its own building height restrictions and fast-tracked its planning process without architect plans in 2011 to lure South East Water to Frankston amid competition from the Kingston and Dandenong areas.
Some councillors, including those who voted to approve the building's construction four years ago, have since expressed their disappointment at the building's "ugly" design at recent public council meetings.
South East Water paid council $4 million for the site stretching from Beach St in the north to Playne St. As a statutory body, South East Water will pay no council rates.
Frankston mayor Cr Sandra Mayer said the opening of the new business office at the WatersEdge building at 101 Wells St "is another big step in the rejuvenation of the Frankston city centre".
"Having hundreds of new feet on our city streets each weekday is going to be a real boost for local businesses, and will encourage new investors to set up shop in Frankston," she said.
"Our focus is now to work with state government to deliver a high-quality redevelopment of the Frankston Station Precinct which generates even more business for local traders and more jobs for local people."
South East Water spokeswoman Caitlin Rode said more than 500 staff will work at the building from Monday.
"We are currently recruiting for a number of roles across the business and will continue to provide ongoing employment opportunities for people in the region. South East Water currently has 100 employees who are based in the Frankston region and adjacent suburbs.
"We are very excited for our move to the area and we are looking forward to joining the Frankston community."
South East Water merged staff from three offices at Heatherton, Dandenong South and Lynbrook to base its employees at the new Frankston building.