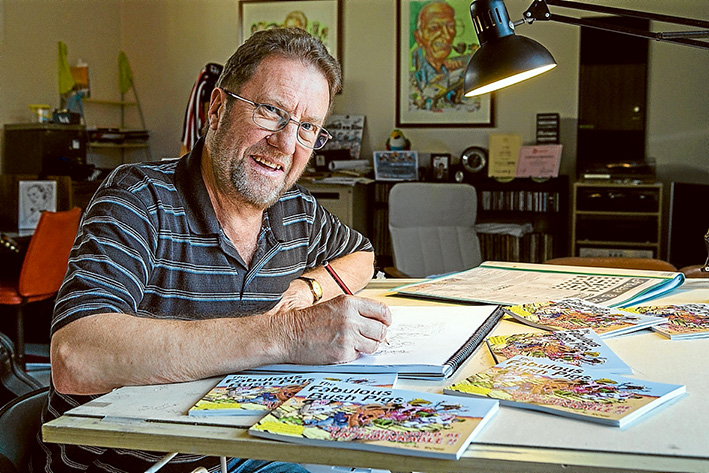 HIGHETT cartoonist Alan 'Al' Rose feels more relaxed drawing for a country audience with his works, which usually have an amusing rural theme.
"Country people are more at ease with cartoon strips, which I like to draw," he said. "Like Footrot Flats, I love that one. I have relatives on a farm in New Zealand and it's them down to a T."
Rose has been drawing strip cartoons since 1977, and is a member of the Australian Cartoonists' Association.
Naturally enough, one of his favourites is his long-running comic strip The Fabulous Bush Pigs, about a trio of pigs that perform country and western/folk music all over the bush.
"They play a variety of instruments: banjos, basses, bog reed flutes, and drums made of rusty old tins," he said. "And they sing through microphones made of old sewer pipes.
"TP is the indefatigable leader. Rancid Ronny is the banjo player who constantly dribbles from mouth and nose, while Tank is the huge bass-playing razorback who communicates in snorts and grunts.
"They are the heart of the band, but Ding-O their manager, Suzie their inspired fan, and Sow Wester, the girl with the biggest voice in the Outback, provide strong cameo back-up. They are all supported by a collection of outback critters including water buffalo, crocs, camels, feral foxes and an endless supply of blowies.
"Their habitat is the desert and the bush. They play their music on makeshift stages or at the Bog Hole Resort, which consists of a mud pool and a rusty corrugated iron lean-to."
The strip has been running in regional newspapers weekly throughout Australia. The book is a collection of 128 single strips, and 15 previously unpublished double decker strips.
Despite the fun, there's also a serious side to cartooning, which Rose captured in his work Freedom & Security – Can We Have Both? The cartoon was in response to the satirical weekly newspaper Charlie Hebdo killings, Paris, which he describes as "a terrible incident for cartoonists". It appeared in a book published in Nairobi, Kenya, with the help of the Australian High Commission.
"I like a weekly schedule," he said. "I can be more choosy with my work and it gives me time to pick the eye teeth out of an idea and perhaps make it into a series."
After leaving school Rose explored his love of cartoons but, sensibly, did a graphic design course "as a back-up".
Taking a cadetship at the Herald and Weekly Times he found himself at the front counter, watching as the master – George Haddon – drew big colour double page spreads for the old Herald. He was hooked.
Since then Rose's cartoons and caricatures have been published for 35 years in publications such as The Melbourne Herald and Australian Golf Digest.
He admires "the greats", such as Haddon, Bruce Petty, John Spooner, Paul Harvey, Mark Knight, David Rowe, and David Pope.
"I also really like the great cartoon strips, such as those in Marvel comics, and Peanuts and Garfield, but they are major industries with banks of cartoonists who do the drawings," he said.
Referring to the fanatical response to the Charlie Hebdo cartoons he admitted: "I do worry. I do a lot of strips and I have to be careful.
"I did some cartoons once for a political party with strange views but then I thought: 'No, I don't agree with their radical views' and gave it away.
"Now, I don't do political stuff anymore and I don't have to worry."
Of greater interest are the well-known Outback themes, such as the poem Saltbush Bill, by AB (Banjo) Paterson, and The Ettamogah Pub, by Ken Maynard. "Australia has a great history of Outback cartoons and I'm happy that my Fabulous Bush Pigs are part of it."
The Fabulous Bush Pigs is on sale at Kidna Books, 422 Hampton St, Hampton, Benn's Books, 437 Centre Rd, Bentleigh, and Dymocks Southland, Shop 3067/8, Level 3.
Details: thefabulousbushpigs.com or call 0403 173 400.
First published in the Chelsea Mordialloc Mentone News – 16 September 2015