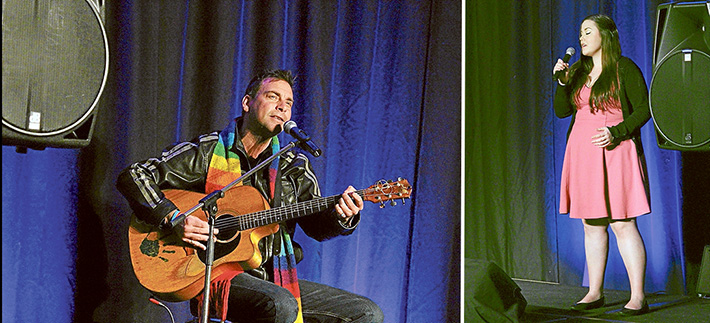 NINE grand finalists for The Voice of Frankston gave it their best vocal shot at the Frankston Arts Centre on Sunday 13 September.
About 130 friends, family and fans were entertained by "passionate and fierce competition" in the show which was filmed by Channel 31, Voice director Jenny Wilkinson said.
The adult category winner was Paul Dillon, of Red Hill, with original song Stars. He pocketed $500 cash, thanks to Bendigo Bank Frankston.
Teen category winner was Brooke Miller, of Mt Martha, singing The Power of Love by Celine Dion. She won $250, also thanks to Bendigo Bank Frankston.
Junior category winner was Raela Wagstaff, of Seaford, with her rendition of Stay by Rihanna. She received $200 thanks to Crocs Play Centre Frankston.
As well as cash prizes, winners received a single CD recording (from Pavmusic), filmed video clip (AV Friend), makeup and photography (Studio Glamour), interview with Mint Magazine, performance on RPPFM and $400 in vouchers from Frankston businesses. The total prize pool was $4500.
Organisers say contestants will have opportunities to perform at The Festival of Lights in November and Frankston Waterfront Festival next year.
"Coaching sessions offered to the performers pre-concert helped refine their song choices and performances before the judges of music industry experts," Ms Wilkinson said.
Special guest performers included last year's junior winner Fox DeRoche, who sang his acoustic version of Hit Me Baby One More Time by Britney Spears.
Others were last year's adult winner, Sian Crowe, singing Etta James' At Last, this year's senior winner, Karen Harvey, singing Valerie by Amy Winehouse, and 2013 adult winner, coach and judge Cail Baroni, singing Impossible by James Arthur.
The audience enjoyed a performance by Team Cail – with teen category grand finalists Brooke Miller, Sierra Phillips, Bec Hoadley and Cail Baroni – singing Titanium by Sia.