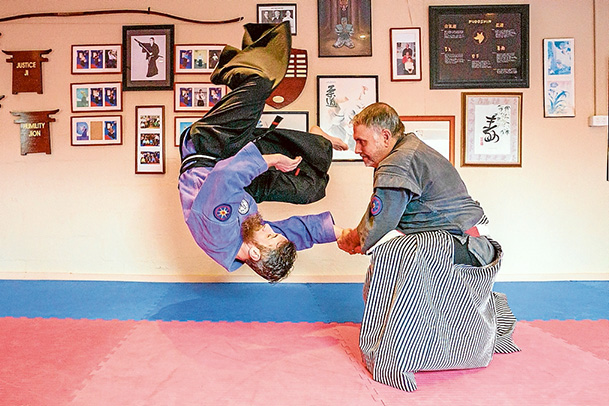 SEAFORD dojo martial arts instructor Soke, Tony Ball, has been honoured with an induction into the Martial Arts Hall of Fame last month.
Ball has been training and has trained many others in martial arts called Fudoshin Ryu Bujutsu, a blend of aikido, kung fu, judo, jujutsu, weaponry and karate, with a focus on the unity of the mind, body and spirit.
Dojo black belt Senpai, Sean Hosking, said the Australian Martial Arts Hall of Fame is "very selective" when it comes to choosing hall of fame inductees. Soke Ball was inducted into the Martial Arts Hall of Fame at a ceremonial dinner event in Hobart on 22 August for in the lifetime achievement category.
"This has been a long time coming. Soke Tony Ball has been involved in community work for many years including the ground work for the martial arts therapy program taught in many Victorian schools now," Senpai Hosking said.
Soke Ball joins other Australian inductees such as Richard Norton (actor in Mad Max: Fury Road and several Jackie Chan movies) and world heavyweight Kyokushin Karate champion Bruce Haynes.
Soke Tony Ball is a martial arts teacher at the not-for-profit Yamagawa-ha Fudoshin Ryu at Seaford Community Centre, corner of Station and Broughton St, Seaford.
The school plans to open a second dojo in Aspendale soon.
See fudoshinmartialarts.net or call 9539 3836 for further information.