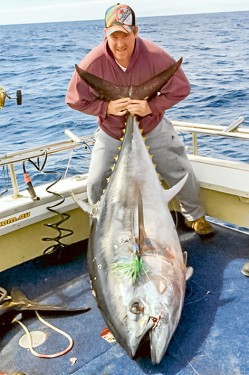 WHAT'S claimed to be a Victorian record blue fin tuna was caught just outside the Heads by a Mornington angler Wednesday.
Abalone diver and keen fisherman Aaron Crocombe hooked his 163.65kg catch using a Pakula Mouse lure 9.30am and had it in the boat 20 minutes later.
The regular big gamer – a member of Snapper Point Angling Club – was with mates on a Pro-line Charters boat out of Sorrento when the fish struck. "I knew it was a big one but it's hard to know how big until you get it in the boat," he said.
"We put it up against another tuna already on board and realised it was a beauty. I was using a harness and I'm still a little sore."
Fishing since he was "knee high…" – and a serious game angler since 2009 – Mr Crocombe isn't one to rest on his laurels: he was packing Thursday for a trip to tuna-haven Robe, South Australia, "where the big ones are".
Snapper Point Angling Club's John Beasy said the tuna was the first caught from a boat out of Sorrento.
He told The Times another fishy story: "The story goes that a larger one was hooked, fought for two hours, broke the rod and was lost at the boat the previous Sunday".
Mr Crocombe is happy his was the one that didn't get away.