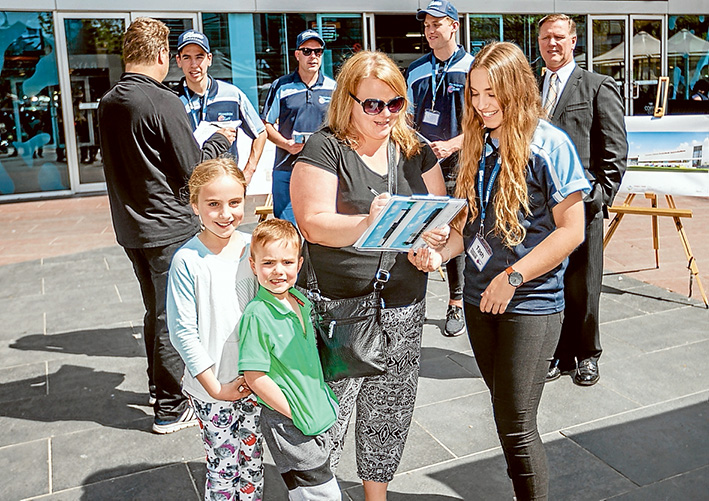 FUNDING for a planned expansion of the Frankston Indoor Basketball Stadium in Seaford is still no slam dunk and the Frankston Basketball Association is ramping up its campaign to lobby for federal government funding for the $20-$25 million project.
Basketballers hit the streets of Frankston last Thursday and Friday for a final push to collect as many signatures as possible for a petition to be lodged with the federal Liberal National Coalition government.
Basketball Association president Nathan Jolly said he hoped to break the 10,000 signatures mark to give Frankston the best shot of $13 million worth of funding to complete stage one of the stadium redevelopment.
He said about 8,100 signatures have been collected so far.
"It is exciting to be submitting a public document which will put on the public record demonstrating the support this project has not only from our region, but also from many of our national and international guests who Frankston Basketball has hosted over the past three months who all believe an expanded and better resourced facility will provide immediate and future benefits for our community," Mr Jolly said.
The project currently has $7.5 million of funding secured including $4 million from Frankston Council, $2.5 million from the Labor state government and $1 million from Frankston Basketball.
Federal Dunkley Liberal MP Bruce Billson has been at loggerheads with local state Labor MPs Paul Edbrooke and Sonya Kilkenny over funding for the stadium.
In June Mr Billson told The Times: "The previous state government committed $2.5 million to the project.
"Frankston Council and the Frankston Basketball Association approached that [Coalition] government for an extra $1.5 million, and during discussions were given the impression that extra funding would be provided."
A first application earlier this year for $4 million in federal funding was rejected due to a lack of overall funding for the project.
A second application for $4 million has been lodged with the federal government and a decision is expected early next year.
If successful the first stage of the planned basketball stadium expansion will include four extra courts, a 2000-seat show court and additional program rooms.
A petition form can be downloaded at frankstonbasketball.asn.au