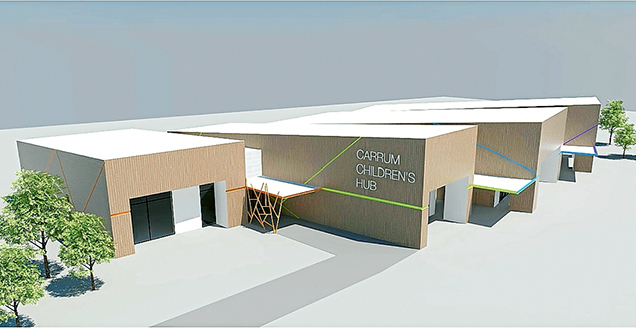 WORK will begin next month on the construction of a new Carrum Family and Children's Centre at Roy Dore Reserve.
Kingston Council has awarded a $3.6 million contract to Clayton South builders DURA Constructions to build a new centre to replace the existing Rene Anderson Kindergarten, Carrum Child Care Centre and Carrum Maternal Child Health Centre.
The Carrum Family and Children's Centre has been funded in partnership by Kingston Council ($2m) and the state government ($1.6m).
Kingston mayor Cr Geoff Gledhill said the new centre will provide an extra 33 kindergarten places, 39 long day-care places, maternal and child health facilities and playgroup areas to the Carrum community.
It joins completed family and children's centres in Edithvale and Parkdale and the planned Westall Hub.
Open space at Roy Dore Reserve will be increased by about 900 square metres by merging the three existing centres in Carrum into a single hub.
A 'Meet the Builder' session will be held on Wednesday 7 October, 5.30pm-7pm at Rene Anderson Kindergarten to connect local tradespeople with the project builders who will provide information about job opportunities available during construction works.
"Council hopes to support local businesses and promote local job creation and it's fantastic to see a local construction company appointed to the project. I encourage other local tradespeople to come along to find out how they could be involved," Cr Gledhill said.
The new centre is set to open in early 2017.
First published in the Chelsea Mordialloc Mentone News – 7 October 2015