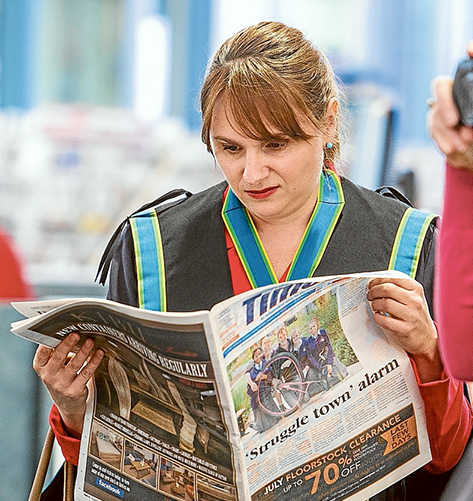 FRANKSTON mayor Cr Sandra Mayer has been appointed as an ambassador for an anti-bullying organisation despite Frankston Council itself becoming embroiled in bullying allegations earlier this year.
The mayor began her role as an ambassador for the Bully Zero Australia Foundation, a group whose aim is to raise awareness of bullying in schools and the workplace, by speaking to McClelland Secondary College students last Thursday about "creating a zero-tolerance culture of bullying".
In a council media release issued last Friday, Cr Mayer vowed to "speak out against bullying".
"Bullying can be relentless and lead to very serious outcomes. We must work together to let everyone know that as a community, we will not accept bullying," she said in the statement.
"There is also a strong message to anyone who witnesses bullying in action: doing nothing is unacceptable. We all have a responsibility to speak up."
Cr Mayer was less inclined to speak up when bullying allegations were aired at Frankston Council both publicly by councillors at a council meeting in January ('Councillors 'feel bullied'', The Times 26/1/15) and privately to The Times by alleged victims at council who claimed bullying allegations "are swept under the carpet".
The mayor determined "that there was no basis for a formal official complaint" when some councillors made complaints about alleged bullying behaviour earlier this year ('Council 'bullying cover up'', The Times 2/2/15).
A freedom of information request by The Times, lodged after council refused to provide any details of bullying at council, revealed there have been five cases of proven or partially proven bullying at Frankston Council within the past two years ('Bullying confirmed', The Times 1/6/15).
Cr Mayer and council CEO Dennis Hovenden also refused to answer questions about a WorkCover investigation in 2013 into alleged bullying by Cr Brian Cunial for privacy reasons.
The Times understands a WorkCover claim "for anxiety and stress" was subsequently approved after the investigation was completed.
Council's media release about the ambassadorial role stated: "The mayor joins a large team of Bully Zero ambassadors from across Australia, which includes journalists, footballers, entertainers, MPs and councillors."