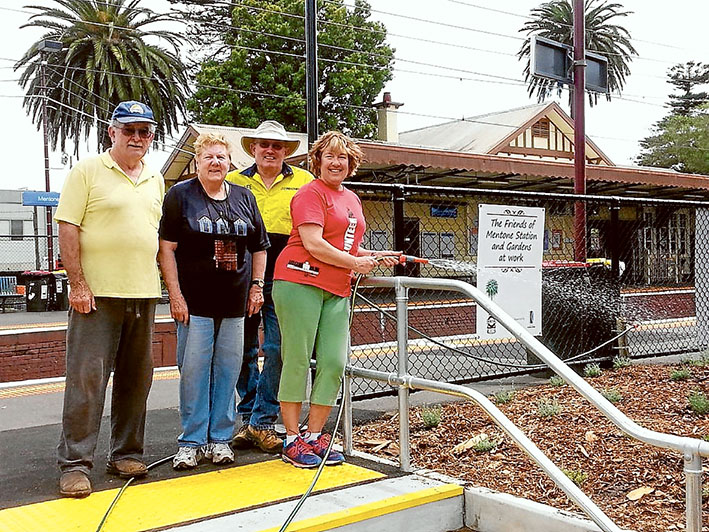 COLOURFUL plantings of grevillea, crackerjack and correa are making Mentone station and surrounds even more attractive for commuters.
Friends of Mentone Station & Gardens last week established four gardens beds – two directly outside the down-side entrance and two either side of the new MYKI readers which have been installed to ease congestion at peak times.
The Friends were able to spend $2000 on bed preparation and plants – thanks to the generosity of St Augustine's Southern Opportunity Shop, Florence St, Mentone.
"The plantings are on VicTrack land which we are looking after," chair Dorothy Booth said. "We hope to continue planting up to the car park."
Turning 13 next month, the Friends of Mentone Station & Gardens see their handiwork as vindication of their strong stand in 2002 when they learned the garden area was to become a bus interchange.
"We rallied to save the gardens before the election of that year and saved them," Ms Booth said.
"Then, in 2006, we achieved heritage listings for the station and the gardens and, in 2012, celebrated with the launch of Leo Gamble's Winning Friends."
The book celebrates the Friends' contribution to the community over the past decade, and their hard work and co-operation with other community, local, state and federal governments and commercial organisations.
The establishment of the gardens is more than just visual: Ms Booth said at least two new members had moved into the area because they saw the gardens as indicative of strong community spirit.
She praised the op shop's management for their generosity. "They have been fabulous to us."
First published in the Chelsea Mordialloc Mentone News – 14 October 2015