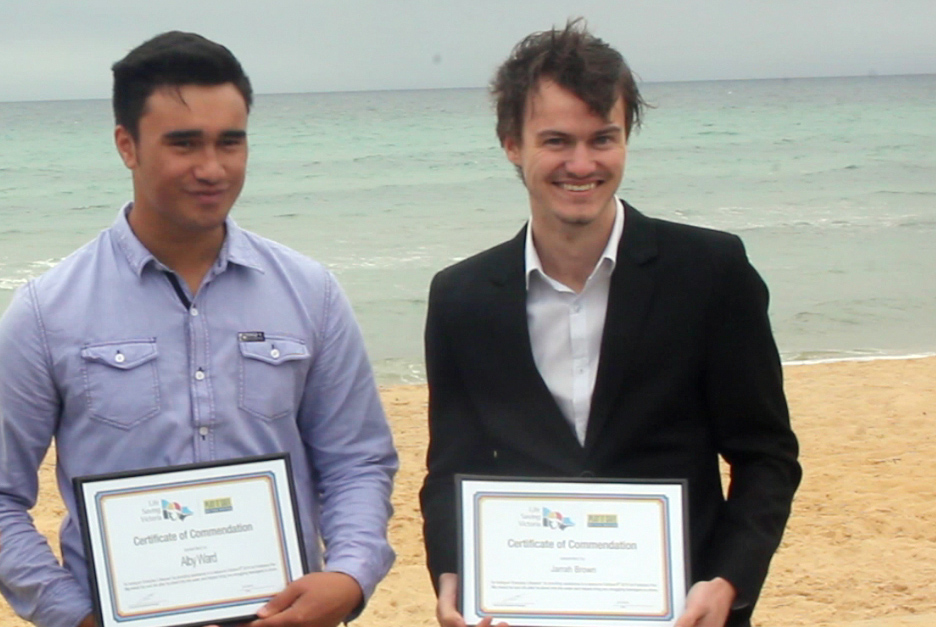 LIFE Saving Victoria on Wednesday recognised the efforts of two young men who dived into rough waters off Frankston pier to rescue two teenagers from drowning ('Rescuers save couple in surging seas', The Times 12/10/15).
The men – Alby Ward, 19, of Seaford, and Jarrah Brown, 23, of Glen Waverley – received Everyday Lifesaver Awards in recognition of their bravery.
Seas were surging and temperatures plummeting after a cool change when the pair noticed a 15-year-old girl and an 18-year-old man struggling in the water, 2.45pm, Tuesday 6 October.
Mr Brown said they immediately dived into the water and swam about 30 metres to reach the pair.
"I was a bit shocked and not really sure what to do," he said. "We heard them calling for help about two-thirds of the way along from the start of the pier and about 30 metres out on the south side.
"It was very rough but we stripped off and dived in after them. I was trying to remember my Year 12 swimming training but instinct kicked in and we managed to get to them.
"The girl was panicking a bit; she was struggling as she had taken in a lot of water.
"[Alby] went to the guy and I went to the girl."
Mr Ward – a New Zealander who moved to Seaford two months ago – had been swimming off the pier and was packing up to go home when he realised the couple were in desperate trouble.
"We jumped in as soon as we saw them and swam out," he said. "I helped the guy and we pulled them towards shore." Both were barely conscious.
Wading in to assist, Frankston's Senior Constable Peter Godsmark and Constable Sean Osburne took over the rescue. The man was not breathing and had no pulse. They gave initial CPR until paramedics arrived soon afterwards.
The couple were taken to Frankston hospital. The girl was released later that night but the man's condition was said to be more serious.
"If the boys had not acted and it was left to emergency workers, I have little doubt the outcome for both would have been far more tragic," he said.
Both are expected to make full recoveries.
Sergeant Rod Hayne, who attended the rescue, nominated the pair for the life-saving awards. "They took decisive action and may have prevented two lives being lost," he said. "The police officers did a great job, too."
Graduate Ambulance Paramedic Ryan Bennett said the swimming conditions on the day were very difficult. "It would have taken a lot of courage for the boys to jump into the water to help the patients," he said.
"And, while we wouldn't advise anyone to put their own safety at risk, they certainly made a difference and were incredibly brave."
Life Saving Victoria's Lifesaving Operations manager Greg Scott said Jarrah and Alby's quick actions "no doubt helped save the lives of these two teenagers".
"We encourage people to learn essential first aid and CPR, as well as swimming and surf survival skills, because you never know when you may need to use it to save a relative, friend or stranger," he said.
"This rescue is also an important reminder about checking beach conditions and assessing swimming ability before entering the water."