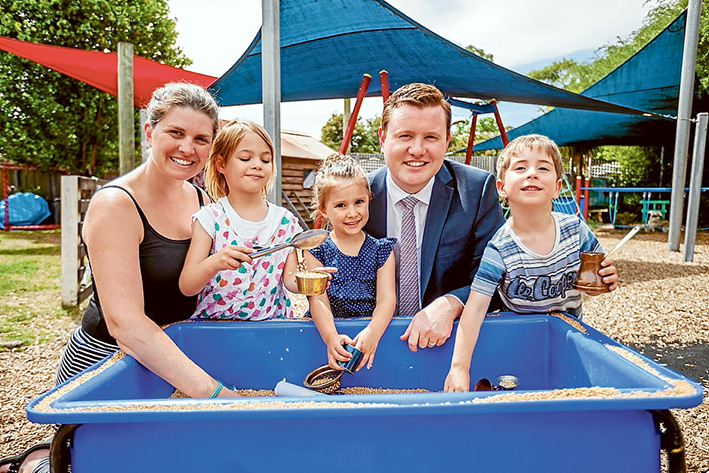 CHELSEA and Chelsea Heights kindergartens are secure after the City of Kingston agreed to add to the state government's $2.35 million grant.
This comes after meetings and a community action campaign and petition led by Chelsea Heights Kindergarten and Mordialloc MP Tim Richardson.
The council's $321,000 allocation will ensure the two community kinders – operating for more than 50 years – will have certain futures.
The mayor Cr Geoff Gledhill said the council stepped in to contribute $321,000 to the refurbishment to ensure $2.35 million in Victorian Government funding was not lost to the Kingston community. "Council is committed to providing quality early learning services and facilities," he said.
"Since 2010 the council has invested $25 million of community funds to upgrade our local kindergartens to help give our young people a great start to their schooling."
About a year ago Chelsea Heights kinder was to be closed and moved to a site now deemed by the council to be unsuitable for development. The kinder was not consulted about the move and sought the support of the incoming state government to stop the move and seek an alternative solution.
Now, after months of investigating and consulting on options, Chelsea Heights kinder will be refurbished and remain at Third Av, Chelsea Heights, while Chelsea kinder will be moved to a new base near Chelsea Primary School.
Under a revised funding arrangement to be presented for consideration by Families and Children Minister Jenny Mikakos, Chelsea kinder will receive a $2 million kinder with two rooms adjacent to Chelsea Primary School, Glenola Rd, Chelsea.
Chelsea Heights kinder will be refurbished with a $671,000 joint investment between the state government and the City of Kingston. This will provide a much needed second room at the kindergarten.
Chelsea Heights Kindergarten president Nicole Adams said: "Our kinder committee has been through so much over the months and I want to thank the Chelsea Heights community for getting behind us and supporting our call for a fair share of funding from Kingston Council.
"We really couldn't have done it without your support. I am so pleased that Chelsea Heights kinder will now become a two-room kindergarten, which will cater for the growing number of families with young children in our community."
Mr Richardson said the two kinders had provided wonderful environments for children to learn, develop and grow their skills. "I want to pay tribute to the parents, educators and supporters who gave their time, effort and have worked so hard to secure the future of these wonderful kindergartens.
"This is an example of what the community can achieve when we come together."
First published in the Chelsea Mordialloc Mentone News – 4 November 2015