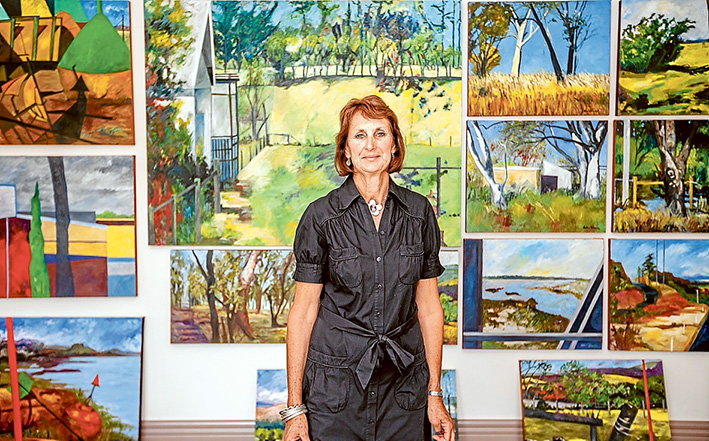 ARTISTS across the Mornington Peninsula are showing themselves as well as their works over the next two weekends.
While it's usually a display of their works, 19 artists are on the map for this year's Peninsula Studio Trail, inviting the public into their studios to see art in the making.
"You can look forward to rooms filled with the smell of drying paints and ink; canvases waiting to be stretched; needles threading; ceramic wheels wet and turning; hot burners burning, and molten silver pouring," gold and silversmith Katrina Newman said. Many of the artists will be demonstrating the techniques that make their work so special."
Ms Newman will be demonstrating cuttlefish casting and lamp-worked glass bead making.
Recent paintings by Bittern artist Cathie Coleman show "varying aspects of her world".
Her works in waxy oil paints illustrate her memories of such things as a road trip home from Cairns, "significant spots from the local environment, including a peek inside Miss Coles gate at Merricks" and the ever-changing views from, The Swamp, her farm in Hendersons Rd, Bittern.
"These places are just the beginning of my paintings moving away from a realist landscape to include the secrets, colours and feelings that emerge as I paint," Coleman says.
Other artists on this year's trail include ceramicists Sandi Faulkner and Susie Lawrence who will conduct workshops for children and adults.
Marilyn Townsend will demonstrate the art of making textile necklaces and cuffs and painting aprons for Christmas gifts.
The Peninsula Studio Trail was started by artists in 2009 and this year's decision to go over two weekends will allow visitors to take in as many studios as they want from Frankston to Sorrento, and around Western Port and Port Phillip bays.
The studios will open 10am-4pm, Saturday 14 and 21 November and Sunday 15 and 22 November.
A map of the trail is at www.peninsulastudiotrail.org or call Katrina Newman on 0413 304 013, email: katrina.newman1@yahoo.com.au or Cathie Coleman, 0418 839 704, cathiecoleman@hotmail.com