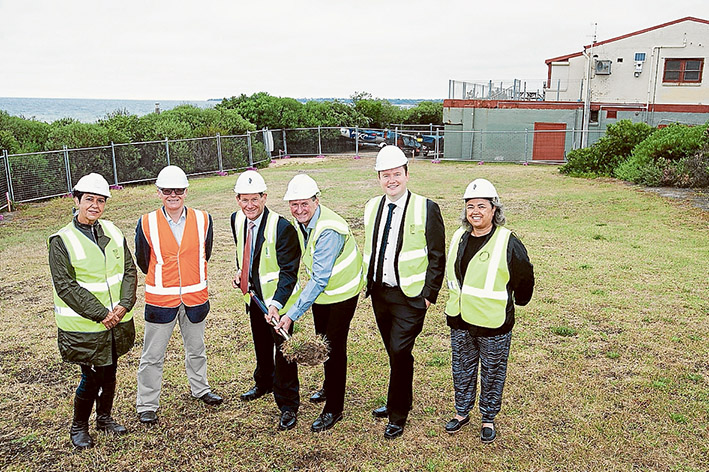 WORKS have begun on a $4 million lifesaving club and Indigenous gathering place in Mordialloc, with the "first sod" turned by club president Grant Rattenbury and the mayor, Cr Geoff Gledhill, last week.
FIMMA Constructions have been chosen for the Peter Scullin Reserve lifesaving club – built in 1955 – and indigenous gathering place.
The works have been funded by the council ($2.94 million), state government in association with Life Saving Victoria ($1 million) and the Mordialloc Surf Lifesaving Club ($100,000).
Cr Gledhill said the project was a highlight of the council's 2015-16 budget and would provide a valuable community asset.
He said the Gathering Place would serve as a place of welcome for Aboriginal community members where they can connect, learn skills, learn from Aboriginal elders, take part in ceremonial activities, share cultural heritage and hear Elder talks on caring for coastal and sea country.
The space could also be a resource for the broader Kingston community to learn about Aboriginal culture, to promote Aboriginal cultural heritage and to strengthen community connections, he said.
Cr Gledhill said the building would also provide Mordialloc Life Saving Club with much-needed new facilities.
"The council is pleased to invest in this vital project that will help the Mordialloc Life Saving Club keep up its good work, keeping the community safe on our beaches each summer," he said.
He said the community was grateful for the time given by volunteer lifeguards and recognised the need for modern, functional facilities.
Mordialloc Life Saving Club president Grant Rattenbury is thrilled with the project. "The whole club is buzzing," he said.
"Our current building has limited space and is 60 years old so this couldn't come at a better time.
"This facility will provide better meeting rooms, training facilities and storage space for 600 members and help its volunteers better serve the community through our summer beach patrols."
First published in the Chelsea Mordialloc Mentone News – 11 November 2015