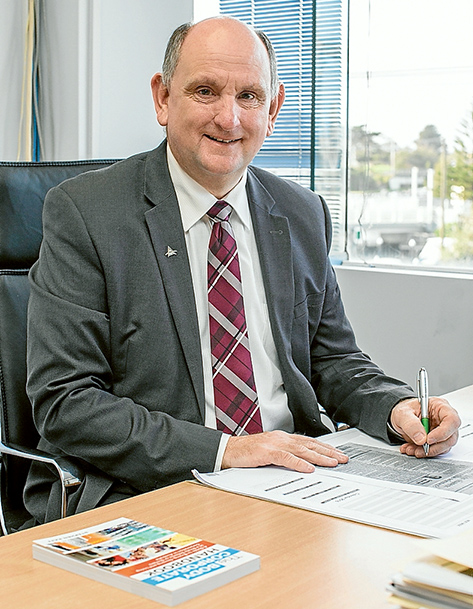 IT can be a stressful work life being a strata manager. Tenants and apartment owners don't call unless something has gone wrong and needs to be fixed, preferably quickly.
But Stephen Raff, CEO of Mordialloc based Ace Body Corporate Management, can see the funny side of the strata manager job after more than 20 years in the business.
The Ace Body Corporate founder has compiled the strangest and most amusing incidents into a book called Strata Living Stories.
Incidents range from the elderly lady who literally hosed down a couple next door whose "banging like rabbits" regularly breached the peace to a tenant who installed a trapdoor in a home to keep pigs under the floorboards.
Mr Raff said most calls are about leaky taps or wear and tear but other call outs can be confronting for various reasons.
"Our job as a manager is very stressful. It's probably one of the most stressful jobs you'd ever be in because we're dealing with all walks of life from all different cultures, backgrounds and classes," he said.
"They're often yelling and so on and we have to wave the magic wand and fix it."
He decided to write a book about the more humorous side of the job for industry insiders but he says tenants, landlords and homeowners will also see the funny side of some of the book's tales.
Mr Raff said he was stunned a few years ago to discover a tenant had installed a staircase from a rented apartment into the above vacant apartment.
"He was living in a downstairs unit and he decided the vacant unit above his was a waste of accommodation so over a period of time he put a helmet and goggles on, dressed as a workman coming in and out, and built a staircase into the upstairs unit and lived in both."
The surprise stairway to tenant heaven was discovered when the landlord of the upper unit, who lived overseas, decided to rent it out.
Another unsanctioned home renovation involved pigs being housed in floorboards under a home in Brunswick.
"A tenant in a downstairs unit had dug a great big hole and put boards around inside and put two pigs in there to be fed every night to fatten them up for Christmas."
Neighbouring tenants complained about the smell of the pigs in summer leading to the discovery of the pungent porkers.
Strata Living Stories is available to buy at stratalivingstories.com.au or by calling Stephen Raff on 03 8586 1300.
First published in the Chelsea Mordialloc Mentone News – 11 November 2015