DISTRICT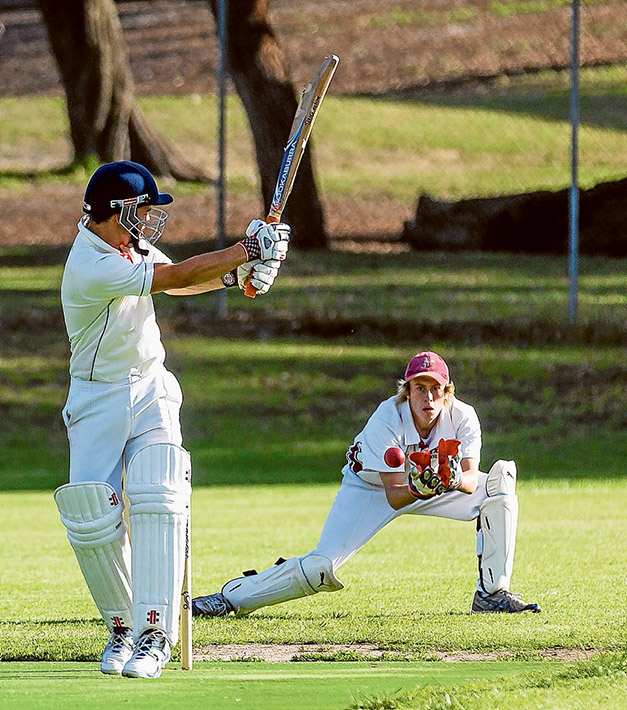 SEAFORD has a lot of work to do in the field on day two of its match against Baden Powell, the side dominating MPCA District cricket.
Seaford won the toss and batted first on Saturday at Seaford Reserve and got away to a flying start, getting 50 on the board without loss.
However, the home side lost four wickets inside 22 runs and were in some trouble at 4/77 with Ryan McQueen (29), Paul Hartle (23), Faisal Payenda and Damien Lawrence all back in the sheds.
Nick Simpendorfer offered some resistance in the middle order with a hard fought 53 but there was no fight below him.
The final four wickets fell for just 30 runs.
Michael Ballard claimed 3/23 for the Braves, while Tom Wood helped himself to 3/9 from eight overs and Ryan Barnett opened with 3/57 from 20 overs.
In reply, the Braves are cruising at 1/89. Nathan Cassano is unbeaten on 51 and Rhys Elmi is not out 25 at the other end.
Pearcedale and Red Hill are two undefeated teams well in battle after day one at Pearcedale Reserve.
This match is must see viewing on day two after 15 wickets fell on the opening day.
Red Hill batted first and lasted 49.1 overs for just 139 runs.
Simon Dart scored 59 and Nick Shaw made 25. There were four ducks and only four scores above 10.
Chris Dew was outstanding for the Panthers with 4/33 while Shane Maggs was sensational yet again with 3/33. What a difference Maggs has made!
Red Hill's bowlers needed to produce something pretty special and they did just that, claiming 5/86 from 30 overs. Luke Toy claimed three wickets and Glenn Collett a couple.
Chris Dew and Kaine Smith are not out on 33 and 13 respectively.
Not unlike Pearcedale Reserve, there were 13 wickets fall at Roy Dore Reserve in the match between Carrum and Main Ridge.
The Lions batted first and made just 139 in 70 overs.
Travis Barker (3/15 from 18.2 overs) and James Abbott (3/29) were the best of the Ridge bowlers.
Facing the last 10 overs of the day, Main Rudge slumped to 3/16 with Jeremy Graves picking up two wickets and Liam Dobson one.
Mt Martha has set Boneo a massive task to score 310 runs for victory.
The Reds batted first on Saturday and scored a super impressive 6/309.
Mitchel Darville opened with his highest score of 121 while Matthew Pollock scored 64 and Kyle Bendle (58) continued his good form with his second half century for the season.
Cameron Williams and Leigh Janssen took two wickets each for Boneo.
Seaford Tigers have set Heatherhill 177 for victory.
At one stage the Tigers were in real trouble at 5/31 before Ash Mills scored 80 and Matty Meagher 48.
Jordan Creely was the pick of the Hill's bowlers with 6/31 from 15 overs, while Jason Hinde snared 3/30.
In reply, Heatherhill faced the final four overs of the day and lost opener Matt Bishop for a duck. They will resume at 1/11.
Flinders scored 9/229 against Delacombe Park with the middle and lower order saving the day.
The Sharks were 4/35 at one stage before Blake Hogan-Keogh scored 80, Shane Beggs 57 and Simon Parrott 40.
Shane Deal was again superb with 4/93 from 34 overs while Dean Blight claimed 4/70 from 29.3 overs.